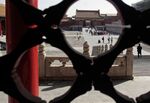 Subscribe to Bloomberg Benchmark on iTunes Podcasts
Subscribe to Bloomberg Benchmark on Pocket Casts
Every week, hosts Dan Moss, Kate Smith and Scott Lanman bring you a jargon-free dive into the stories that drive the global economy.
Donald Trump has pledged to get tough with China on trade and currency, already tensing up relations with the world's second-largest economy. But it could be worse: President Woodrow Wilson signed a treaty that gave Japan control of part of China, and that didn't go over too well. John Pomfret joins us to take the long view of relations between the U.S. and China. The longtime China correspondent for the Washington Post and author of the new book "The Beautiful Country and the Middle Kingdom" joins Dan and Scott to discuss what the incoming U.S. president can learn from two centuries of contact, and how, as he puts it, stable ties with the U.S. can "make China great again."
Before it's here, it's on the Bloomberg Terminal.
LEARN MORE