Pound Flattens Inflation Curve as Consumers Face Squeeze in 2017
By
Longer-maturity inflation swaps over extension to fade

Curve may invert as weak sterling underpins shorter end
U.K.'s longer-dated inflation swap rates may soon trail shorter maturities as the effect of the sterling's weakness on price gains will be more pronounced at the front-end, Bloomberg strategist Tanvir Sandhu writes.
Zero-coupon inflation swaps, a gauge for market-implied price expectations, rose across maturities in almost parallel fashion after the June Brexit referendum.
The two-year swap rate has risen 85 basis points to 3.50 percent since the vote, while the 10-year rate has risen 57 basis points to 3.54 percent, shrinking the difference between the two to a negligible level.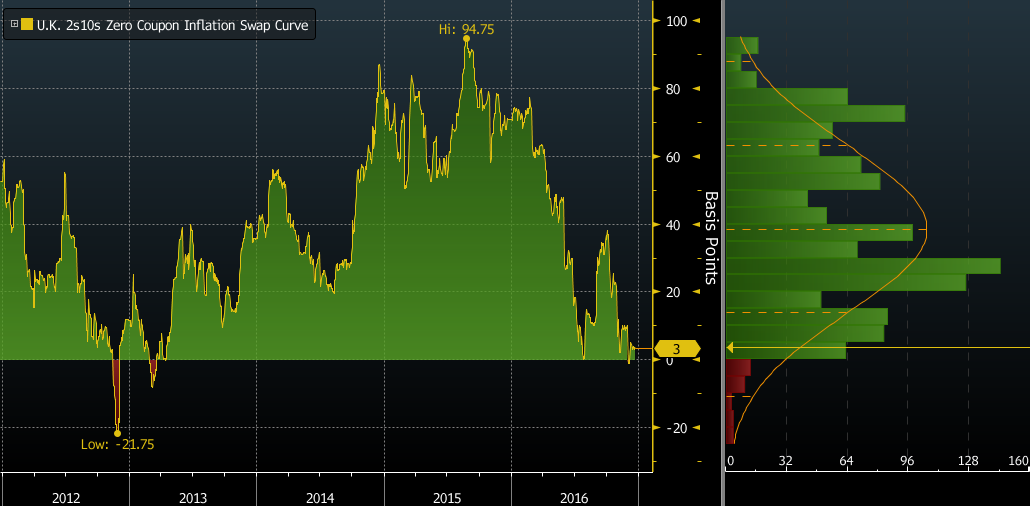 The inflation premium built up at the longer-end of the swap curve may fade as the uncertainty due to any prolonged Brexit negotiation could damp investment outlook and growth. Consumers have so far fared well since the referendum but face real income squeeze in 2017 with household savings ratio at the lowest level since the 2008 crisis.
But the shorter-end is likely to hold up as the currency's weakness may continue to exert upward pressure. This may invert the curve, a phenomenon that has occurred only three times in the past five years, with the long-end over-extended.

Most tenors have converged at 3.5 percent, with the inflation-risk premium over-extending further out the curve.
Besides the currency's weakness, the front-end may also be underpinned by U.K. import tariff risks.
Front-end inflation swaps may decline significantly if one or a combination of the following factors materialize, among others: sterling gains significantly, oil prices collapse or inflation-linked bond supply picks up.
Sterling pass-through fears may have been pushed too far out the curve.
NOTE: Tanvir Sandhu is an interest-rate and derivatives strategist who writes for Bloomberg. The observations he makes are his own and are not intended as investment advice.
Before it's here, it's on the Bloomberg Terminal.
LEARN MORE