Emerging Stocks Fall as Dollar Strength Reduces Risk Appetite
By , , and
Mexican peso hits 3-week low after Trump appoints trade critic

Saudi Arabia's budget gap seen dropping 33% next year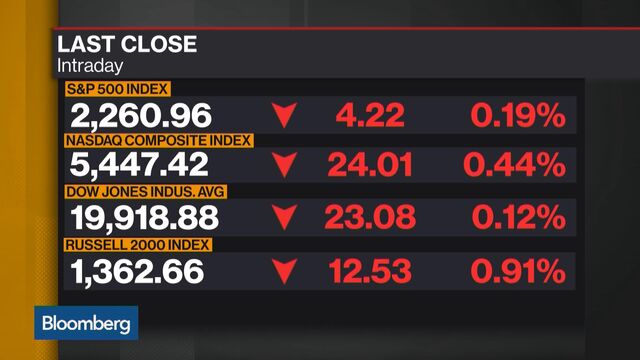 Emerging-market equities dropped to the lowest level in a month as the U.S. dollar's strength reduced demand for riskier assets and investors remained concerned about the potential for Donald Trump's policies to crimp growth in developing nations.
MSCI Inc.'s gauge lost 1.0 percent, on track for its second weekly decline, led by a drop in materials shares. Bloomberg's dollar index, which measures the greenback's strength against its major peers, added 0.3 percent to trade near the highest in more than a decade.
"We're a bit nervous about emerging markets because of the combination of rising U.S. yields and a strong dollar," said Nathan Griffiths, who manages about $750 million of equities at NN Investment Partners in The Hague. "The real concern we have is whether stronger growth in the U.S. will translate into stronger growth for those markets."
A measure of developing currencies slid 0.1 percent, led by declines in the Mexican peso, which touched a three-week low after U.S. President-elect Donald Trump appointed Peter Navarro, a vocal critic of trade with China, to run the National Trade Council. Brazil's real led gains, appreciating for the fourth consecutive day, after a central bank report on inflation.
Russia's ruble advanced 0.4 percent, extending its winning streak to four days, the longest since September
South Africa's FTSE/JSE All Share Index fell 0.7 percent. Investors extended their selloff of the nation's equities and bonds yesterday, taking the total since the Fed's rate hike to about 7 billion rand ($500 million).
Egypt's benchmark EGX 30 Index extended gains to a new record. In dollar terms, the gauge is still down more than 30 percent since the Egyptian pound was floated last month.
WHAT TO WATCH:

Saudi Arabia unveils budget; budget gap seen dropping 33% to 198 billion riyals in 2017
For other data and events, see Asia Daybook, India Daybook, Taiwan Daybook, Middle East Daybook, Russia Daybook, Africa Daybook, South Africa Daybook
RESEARCH:
Morgan Stanley joins JPMorgan and BTG Pactual in flagging stock bargains in Chile
Bonds, currencies and stocks in Asian emerging markets that are less dependent on external demand, such as India and Indonesia, are the most popular picks for investors and strategists next year. Click here for more top picks for 2017 across developing Asian nations
Performance of Saudi Arabian stocks will increasingly depend on regulatory changes by the government, such as remittance tax, increase in municipal fees, subsidy reduction, and less on movements in the price of oil, said Nayal Khan, Riyadh-based head of institutional equities sales trading at Saudi Fransi Capital
Eaton Vance favors the rupiah because of Indonesia's "good reform story and a relatively stable economic outlook," says Eric Stein, the Boston-based co-director of global fixed income
The Turkish market is "extremely cheap" and should settle down after a dismal year, says UBS Group AG head of global emerging market strategy Geoffrey Dennis. He expects the economy to grow 3 percent next year.
BRICS equities, except China, look attractive for 2017, Michael Bell, global market strategist at JPMorgan Asset Management said in an interview with Bloomberg TV. Economic growth is expected to accelerate in India and South Africa, while Brazil should pull out of its recession. Russia will benefit from higher oil prices. China's growth will slow as the government pulls back on infrastructure spending, tries to temper increase in housing prices and as banks face rising bad debts, he said
Before it's here, it's on the Bloomberg Terminal.
LEARN MORE