Carl Icahn to Champion Decreased Regulation as Trump Adviser
By
Billionaire says on CNBC he's not dictating policy, hires

SEC head should hold companies more accountable: Icahn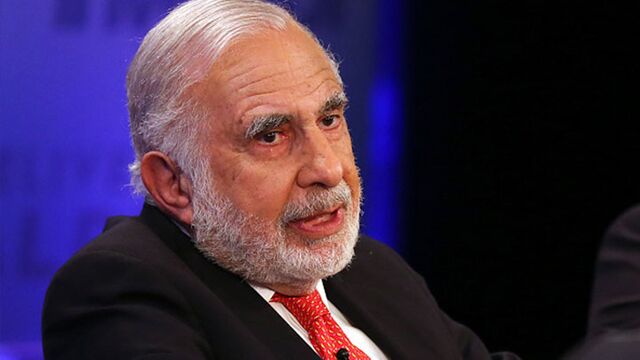 Billionaire investor Carl Icahn said he will be "rallying against overregulation" in his role as a special adviser to President-elect Donald Trump.
The corporate raider-turned activist shareholder said Thursday on CNBC that he'll continue giving Trump advice on regulatory appointments and overhauls. He dismissed questions about perceived conflicts of interest with his investments, saying he's "not making any policy" or dictating hires.
"I give my opinion on that and I think I'm good at that," Icahn said of appointments. "Over the years you develop instincts for picking the right CEO. Is there anything wrong with me saying, 'This guy is the right guy for this job at this time'? It doesn't mean Donald is going to take my advice necessarily."
Icahn, 80, said he wants the new head of the U.S. Securities and Exchange Commission to hold public companies more accountable. He also repeated his call for changes that encourage corporations to re-invest in growing their businesses instead of repurchasing stock.
"I can do a lot of good, in my mind, keep rallying against this overregulation that we have," Icahn said. "If you continue to have this -- and continue to have these 25-year-old kids telling businesses how to be run -- you're not going to get businesses themselves to invest in their own companies."
Mutual Admirers
Trump and Icahn are mutual admirers, and both routinely bypass standard press releases by tweeting their views. Icahn endorsed Trump in September 2015 and had been mentioned by Trump as a possible Treasury secretary nominee, an idea Icahn repeatedly dismissed.
The investor, who earlier said he had been consulted on the nomination of Scott Pruitt to head the Environmental Protection Agency, reiterated his complaints about the costs his refinery investments face to comply with renewable-fuel mandates.
Icahn said he doesn't understand criticism that his advisory appointment, announced Wednesday, equates to installing a fox to guard a hen house. He likened seeking his advice on business regulation to consulting banking chiefs on financial reform.
Icahn is invested in a number of companies that may be impacted by regulatory changes, including insurer American International Group Inc., liquefied natural gas exporter Cheniere Energy Inc., refiners CVR Energy Inc. and CVR Refining LP, miner Freeport-McMoran Inc., and railroad car group American Railcar Industries Inc.
Icahn is also the biggest shareholder in Herbalife Ltd., the nutrition-supplements distributor that in July agreed to pay $200 million and make sweeping changes to its business to settle U.S. Federal Trade Commission claims that it deceived consumers with get-rich-quick promises.
Increased Hedging
Icahn said he was concerned about the U.S. stock market "in the short term" given its run-up following Trump's win, adding that he increased his hedging in recent weeks.
Many investors are likely waiting until January to sell stocks in anticipation of lower taxes on those gains in 2017, Icahn said. Meanwhile exchange-traded fund buyers continue to seek stocks, driving prices higher.
Icahn, who is worth about $20 billion and primarily invests his own fortune rather than relying on money from outsiders, has investments across industries including health care, energy, metals, auto parts, casinos, telecommunications, real estate and rail cars.
He re-branded as an activist investor and outspoken shareholder advocate after gaining fame as a corporate raider in the 1980s. In recent years, Icahn has taken stakes in companies including Apple Inc., Hertz Global Holdings Inc., Xerox Corp. and EBay Inc., agitating for shareholder-enriching changes.
Before it's here, it's on the Bloomberg Terminal.
LEARN MORE