Icahn-Backed CVR Jumps as Trump Gives Him Adviser Role
By
Icahn has criticized EPA for running 'amok' with regulations

The activist investor has a controlling stake in CVR Energy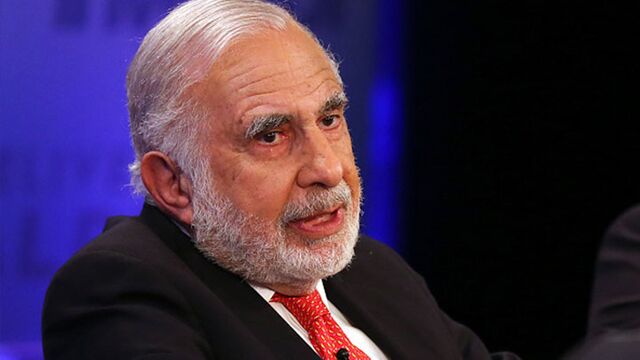 CVR Refining LP surged after the announcement that stakeholder and billionaire investor Carl Icahn will be President-elect Donald Trump's special adviser to roll back regulations.
Shares climbed as much as 14 percent and were up 9.9 percent to $10 at 2:06 p.m. in New York. Parent company CVR Energy Inc. rose 12 percent to $23.92.
On Wednesday, Trump named Icahn as a special adviser to help overhaul federal regulations the president-elect has said are hurting businesses. Icahn, who endorsed Trump, has repeatedly criticized the Environmental Protection Agency and said the costs that refineries face for renewable-fuel mandates are too burdensome.
"There's something very wrong in our economy if you don't have healthy refineries," Icahn said during an interview on CNBC Thursday. Some of the regulation has "become literally absurd."
Brandee Stephens, a spokeswoman for CVR, declined to comment.
Icahn, who holds an 82 percent stake in CVR Energy, said concern over conflicts of interest in his role advising Trump is "almost a crazy issue," noting that he'll be offering opinions and not setting policy. Reiterating his criticism of traded credits known as Renewable Identification Numbers, or RINs, he said a roll-back of regulation is needed "almost yesterday."
Earlier this month, he touted Oklahoma Attorney General Scott Pruitt, who is Trump's pick to head the EPA. Pruitt, who's seen as a friend to the oil and gas industry, could help ease the regulatory burden on struggling refineries after the EPA has "run amok" with restrictions, he said.
CVR Energy options volume surged, with the number of calls traded as of 2:09 p.m. more than triple the 20-day average. The most actively traded option was the $25 call expiring March 17, with over 3,000 lots changing hands.
Before it's here, it's on the Bloomberg Terminal.
LEARN MORE