Spain Faces a Christmas Ham Squeeze
By and
Economic rebound causes shortfall in supply of finest ham

Crisis cut output of Iberico ham, which takes years to cure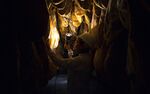 The Grinch has stolen Spain's Christmas ham.
Although Spaniards are feeling richer this Christmas, higher prices for "jamon iberico" will remind diners from Madrid to Salamanca that leaner times are not so long ago in the past. As consumer demand fell during the economic crash of 2012, so did the number of pigs being salted and hung in cellars for three years or more to make the finest Iberico ham. That has caused a ham squeeze and hiked up prices for the delicacy.

"The hams being eaten now come from pigs that may have been born from 2011 to 2012 which was a very difficult time economically," said Albert Marti, chief executive officer of Cestas Marti, a firm specializing in Christmas hampers -- that often include hams -- for companies to deliver to their staff and clients. "There is now some stress in terms of ham supply."
Spain is rebounding strongly from the financial crash that forced it to seek 41 billion euros ($42.6 billion) of European aid to prop up its banking industry in 2012. With the economy on course to grow 3.2 percent this year, Spanish families will spend an average of 682 euros on their Christmas shopping and gifts, exceeding the European average of 517 euros, according to a study by accounting firm Deloitte.
Ham and Shrimps
A study by Kantar shows that Spaniards like to spend more than 20 percent of their Christmas budget on traditional food items like Iberico ham and shrimp. The very best Iberico is a cured ham produced from black Iberian pigs that roam oak forests along Spain's border with Portugal while feasting on acorns.
"After a crisis without precedent at every level that was especially hard for Iberico ham, today we can say that we are in a process of recovery and stabilization of the industry," said Francisco Javier Morato, chairman of the Inter-professional Iberico Pig Association, in an e-mailed statement. "The outlook couldn't be better."
Four years ago, the future looked anything but bright for Spanish ham producers. They responded to the 2012 crisis by scaling back production as demand shriveled and bank financing dried up, said Mario Redondo, chief executive officer of Redondo Iglesias, a producer based in Valencia that produces Iberico at its plant in Salamanca province, the heartland of Spain's fine hams industry.
His company cut output from about 150,000 Iberico hams in 2008 to about 70,000 in 2012. In the country at large, the number of pigs slaughtered plunged to 2.3 million in the 2012-2013 season, down from 2.8 million in 2011-2012, according to the Iberico Association. Sales  meanwhile have recovered to more than 6 million hams in 2015 from 4.7 million in 2012.

'War Economy'
"Producers were facing a sort of war economy and they cut production accordingly," said Redondo.
Spain's ham dearth still has some way to go, he said. While this year's shortages have hit Iberico hams, the squeeze may be felt next year on supplies of hams from pigs that are 100 percent acorn-fed and that can take longer in the curing process before they end up on dinner tables, said Redondo.
The impact for Spanish ham lovers has been an increase in prices, he said. From 2008 to 2012, prices may have fallen 50 percent and they are now coming back to average levels for the industry. Meanwhile, Marti estimates that prices for a good quality ham shoulder are up as much as 70 percent from 2012.
Even so, the outlook for producers such as Redondo and suppliers of hampers looks bright as companies and consumers increase spending on gourmet products in more buoyant economic times. Marti expects revenue to increase as by as much as 10 percent this year as his clients, mostly Spanish corporations, spend more on hampers.
"We could have actually sold more hams this year if there had been more of the product available," Redondo said.
Before it's here, it's on the Bloomberg Terminal.
LEARN MORE