What Mining Giants From Barrick to Teck Are Watching For In 2017
By
Base metal capex to rise after years of neglect: Lundin Mining

Gold mining sector suffers from 'too many players:' Agnico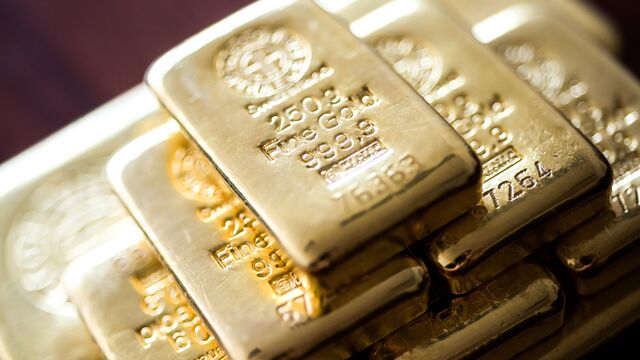 It's been a turbulent year for miners, with metal prices starting near multi-year lows as executives drew from a common playbook: slashing spending, costs and debt. Then came Brexit and the U.S. election and gold and base metals diverged.
What does 2017 hold? Bloomberg asked the heads of some of the biggest producers including Barrick Gold Corp., Newmont Mining Corp. and Teck Resources Ltd. Opinions vary, but there's broad agreement that gold faces near-term headwinds from the Fed; that industrial metals have bottomed out but the dizzying 2016 rally may falter; and that miners will begin to spend more, possibly on deals, while keeping an eye on balance sheets.
Barrick's Kelvin Dushnisky:

"If we see an opportunity to acquire something, to increase our margin, earnings, NAV, then we'll consider it. But if it's just a matter of adding to our production base, we're not interested."
Market Outlook:
* Global economic uncertainty and loose monetary policy are supportive of gold prices in 2017; volatility around Fed affects near-term prices
* Mid to longer term, supply-demand fundamentals bullish for gold
Sector Outlook:
* Costs can be lowered further although "low hanging fruit has been harvested"
* May see more M&A activity, depending on valuations
* Gold below $1,000 an ounce could pose survival challenge for some miners
Barrick in 2017:
* Making "good progress" to drive all-in cost below $700 by 2019
* Looked at a number of acquisition possibilities in 2016 and will continue to act on acquisition "mandate" in 2017
* Any gold weakness could provide acquisition opportunities
* "We may do some increased exploration in 2017, both a combination of mine-ex around the existing mines and greenfield"
* Used $1,000 gold price for budgeting in 2016. For 2017, "I'll be surprised if we're not in that same range"
* Barrick shares are up 86 percent this year
Newmont's Gary Goldberg:


"As I look at where we're at today, it feels a lot like where we were a year ago with the Fed having just raised interest rates and the potential for other increases going forward."
Market Outlook:
* Mid- and long-term fundamentals for gold are good
* Near term, prices could fall further before the market "finds its center"
* Pickup on buy side likely to support falling prices
Sector Outlook:
* Biggest latent risk is under-investment during down cycle
* Past focus on the best quality ore amid low prices may "come back to roost in higher operating costs, cash costs, over the next year or so"
* Expects 6-7 percent decline in mine supply by 2021
Newmont in 2017:
* Positioned to perform well through all cycles; focus on internal projects
* Lower gold prices could provide asset-buying opportunities
* Higher prices would benefit shareholders through new dividend structure
* Recently cut price for 2017 budgeting to $1,100 from $1,200
* Newmont shares are up 75 percent this year
Agnico Eagle's Sean Boyd:

"The next big cost item that needs to be taken out of the industry is overhead. There's too many players for the number of good opportunities that are around."
Market Outlook:
* Bullish on 2017 and beyond as market builds off average 2016 price around $1,140
* Rising global protectionism and financial-system debt, with only moderate rate increases in the U.S., will be supportive of higher gold prices: "I could see gold at $1,300, $1,350 in 2017 and that isn't a stretch because nothing has really been addressed from a financial system risk perspective"
Sector Outlook:
* If gold does fall below $1,100, sees more M&A as some miners still vulnerable
* Industry needs to see more M&A at asset and corporate level
* "The biggest challenge is the pipeline. Finding enough quality assets that not just sustain production levels but actually allow you to improve the quality of the business"
Agnico Eagle in 2017:
* Company can increase production by 400,000 to 500,000 ounces by 2020 or 2021 through internal projects; internal pipeline can supply growth for five to six years
* Would consider acquisitions that added to production profile after 2022
* Sees local currency weakness (CAD, Euro, Mexican Peso) supporting growth
* Using $1,200 for budget purposes
* Agnico shares are up 41 percent this year
Yamana's Peter Marrone:

"Within the next couple of years to five years we will be seeing gold prices that are meaningfully higher than where they are today and where they were at their last highs several years ago."
Market Outlook:
* Prices could be choppy in 2017 but mid- and long-term prognosis very strong
* Sees gold exceeding 2011 high of $1,900 in 2-5 years
* Global economic and geopolitical uncertainty, higher inflation supportive long term
Sector Outlook:
* Still sees room for industry to cut costs further, find more efficiencies
* Industry can't rush capex; projects and M&A depend on technical merits
Yamana Gold in 2017:
* Focused on developing Cerro Morro deposit and internal exploration projects
* Higher gold prices would allow cash buildup for internal investment beyond 2018
* If extra cash, "special distributions to shareholders are a good way to go"
* Likely to use gold price near 2016 average for 2017 budgeting
* Yamana shares are up 33 percent this year
Teck's Don Lindsay:

"The zinc concentrate market is so tight that zinc smelters are going to run out."
Market Outlook:
* Concentrate shortage means he's bullish on zinc
* Metallurgical coal to be strong for at least first half
* Eventually, supply re-balancing to push down coal with $150 a ton "pretty safe" long term
* Copper could slip to $2-$2.25 a pound before strengthening as market moves into deficit in 2018 or 2019
Sector Outlook:
* Continued focus on costs and productivity in the face of increasingly volatile markets
* Growing investment in technology to improve efficiency and environmental performance
Teck in 2017:
* Will consider changing dividend policy in April
* Priority is reducing debt to $5 billion or less in first quarter or shortly thereafter
* 2017 focus on internal pipeline, including Fort Hills
* Quebrada Blanca expansion well timed for higher copper prices
* Teck shares are up more than 400 percent this year
Lundin's Paul Conibear:

"Everybody's capex should be up. It's not necessarily discretionary anymore."
Market Outlook:
* Copper prices likely to slip; Lundin using $2.25 a pound for 2017 budget
* Zinc may soften slightly "but a good zinc price is here to stay"
* Nickel to be relatively weak for another 1.5 years
*"I would caution those who think we're back in a bull market: we're not"
Sector Outlook:
* Strong Q4 earnings to flow through entire industry cost structure and "take some of the handcuffs off spending"
* Operating and capital expenditures to rise as companies reinvest in equipment, repairs
* For next 1-3 years, grades will drop, stripping increase, after miners "pushed their mines as hard as they could" during downturn
* Resurgence in exploration likely as miners hunt for new scarce production
* Slow reintroduction of dividends but share buybacks unlikely given share strength
Lundin Mining in 2017:
* Company's assets all make money at current metal prices
* Will consider special dividend when receives proceeds from Tenke sale
* Hoping to do acquisitions but can be patient
* Lundin Mining shares up 71 percent this year

Before it's here, it's on the Bloomberg Terminal.
LEARN MORE