Treasuries Rise With U.S. Stocks Before Holiday: Markets Wrap
by
European banks lift equities, dollar resume its advance

Gold set for seventh weekly decline, crude holds near $53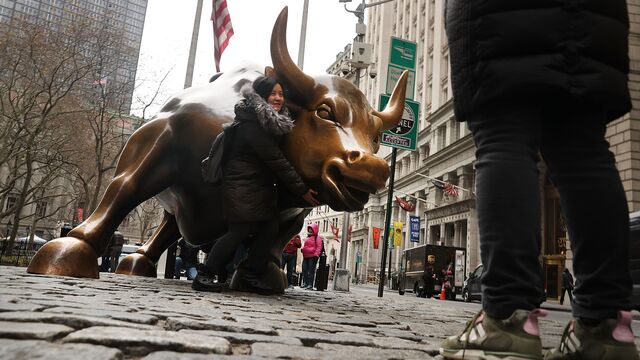 Treasuries capped the first weekly gain since the election, while U.S. stocks posted modest gains in thin trading before the holidays. Gold fell for a seventh week, while crude settled at the highest in 17 months.
The S&P 500 Index closed 0.4 percent below a record, while the Dow Jones Industrial Average edged higher to 19,930. Trading volume was 54 percent lower than the 30-day average at this time of day. The yield on the 10-year Treasury note edged lower as U.S. data did little to alter perceptions on the economy's strength, while China signaled it's open to slower growth. Crude ended at $53.02 a barrel in New York.
Financial markets showed little movement on the last trading day before the Christmas holidays as investors assess the post-election rally that's added trillions to the value of global equities and lifted the dollar to a multiyear high. Chinese President Xi Jinping indicated he's open to economic growth slowing below the government's 6.5 percent target. While trading in European equities was 40 percent lower than the 30-day average, the removal of a legal cloud over Deutsche Bank AG and rescue of Monte Paschi in Italy lifted banks in the region.
Read More: Markets live blog here. 
Stocks
The S&P 500 rose 0.1 percent to 2,263.72 at 4 p.m. in New York. The index climbed 0.3 percent in the week. The Dow finished at 19,934.
Strong data on housing and consumer confidence did little to alter perceptions of the economy.
The Stoxx Europe 600 Index fell less than a point and is little changed in the five days.
Deutsche Bank climbed 0.3 percent as it agreed to pay $7.2 billion to resolve a years-long U.S. investigation into its dealings in mortgage-backed securities.
Bonds
Treasuries gained as the 10-year yield fell one basis point to 2.54 percent.
Italian 10-year yields declined three basis points to 1.82 percent, while German bund yields slid four basis points to 0.22 percent.

Currencies
The dollar slipped 0.1 percent versus the euro to $1.04482, while it traded for 117.18 yen.
The pound fell 0.4 percent to $1.2274, touching the lowest level versus the greenback since Nov. 2, even after data showed the U.K. economy expanded more than initially reported in the third quarter.

Commodities
Gold rose Friday but not enough to stave off a seventh weekly slide, the longest slump since May 2004. The metal settled 0.2 percent higher at $1,133.60 an ounce in New York.
West Texas Intermediate crude for February delivery in New York were little changed to cap a weekly advance of 2.2 percent. The contract settled at $53.02 a barrel, the highest since July 14, 2015.
Before it's here, it's on the Bloomberg Terminal.
LEARN MORE