Abe Government 2017 Budget Rewards Companies That Play Ball
By
Creates subsidies for raising wages, helping with elder care

Provides funds for companies that extend parental leave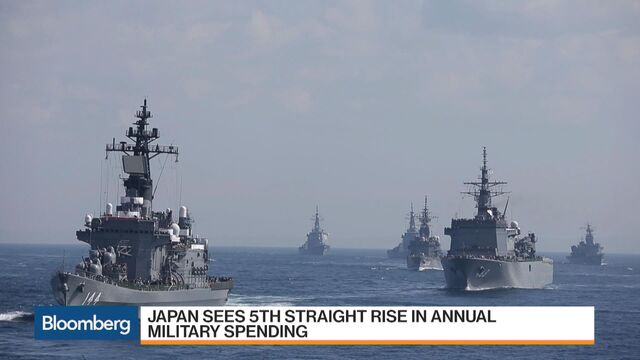 After the International Monetary Fund suggested a stick, Prime Minister Shinzo Abe chose carrots instead, offering incentives in the fiscal 2017 budget for companies that help meet policy objectives such as raising wages and making child and elder care more available.
Some of these programs are small in scope -- tens of millions of dollars -- but could serve as trials for expanded programs later. Other established programs that had already been allocated billions of dollars are seeing increases in funding.
The measures are the latest efforts by Abe to change private-sector behavior. While Abe has made progress in areas such as corporate governance, investors have been disappointed by a lack of deep structural reforms to the economy. The IMF in July called for a "reload" of Abenomics, and urged the government to penalize companies that didn't meet policy objectives such as higher wages.
Abenomics calls for a "virtuous cycle" in which higher corporate profits feed into household income, spurring increases in consumption. Wages have crept up, but not enough to realize Abe's goal. The government has also struggled to reform Japan's workplaces, with attempts to get more women into leadership roles at companies falling flat.
The budget for the fiscal year starting on April 1 will:
Establish a subsidy for companies that increase wages based on employee performance, rather than seniority.
Expand a subsidy for companies that have plans that enable non-regular workers to become, or receive equal treatment to, permanent workers.
Provide funds to extend paid parental leave to two years, up from one year and six months, when child care is not available.
Create a subsidy for companies that allow workers to take time off for elder care.
While full details of the budget were released Thursday, some of the key numbers were provided earlier in the week.
Finance Minister Taro Aso said on Tuesday that there would be total spending of 97.5 trillion yen ($825 billion), a 0.8 percent increase from last year, including a 500 billion yen increase in social welfare spending.
Read more: Spending details and hopes for supplementary spending.
Even as the Abe administration tinkers with the budget to effect public policy, it must also manage Japan's enormous public debt.
At a briefing on Tuesday, Aso said the budget, "realized both economic recovery and fiscal consolidation." Although the spending increase in the 2017 budget is modest, economists expect an additional spending package will come later in the year.
"It's hard to evaluate Japan's fiscal policy with just the initial budget," said Takuya Hoshino, an economist at Dai-Ichi Life Research Institute. "If you looked just at the initial budget, you would think it's applying fiscal discipline, but it depends on whether there's a supplemental budget or not."
Read more: Abe boosts military spending.
Over the past few years, the government has been "quite lucky" in that higher-than-expected corporate earnings on the back of a weaker yen boosted revenue and made it easier to fund an extra budget, Sayuri Shirai, a former BOJ board member, said in an interview with Bloomberg Television. "This year it's getting more difficult to do that," she added.
— With assistance by Maiko Takahashi, Shery Ahn, and Yoshiaki Nohara
Before it's here, it's on the Bloomberg Terminal.
LEARN MORE