Your Evening Briefing
Here are today's top stories.
By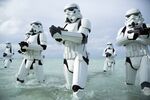 Want to receive this post in your inbox every afternoon? Sign up here.
What happened the day Trump came to Moscow. The last time Donald Trump made an appearance in Moscow was November 2013 for the Miss Universe contest, which he famously owned. Then another, more private invitation arrived: Come to Nobu to meet more than a dozen of Russia's top businessmen, including the CEO of Russia's biggest bank. The two-hour gathering suggests that the president-elect's circle of contacts in Russia is wider than previously reported.
Disney set an all-time record this year, becoming the first to break $7 billion at the box office globally. The December release of Rogue One: A Star Wars Story, which raked in almost $300 million its opening weekend, may have pushed Disney over the top, but it was a trio of billion-dollar films that set the stage for the most dominant year ever from a movie maker.
TJ Maxx and Marshalls ignored the internet—and won. There's been much talk this holiday season about the utter dominance of e-commerce, but some stores are bucking the trend. They're a rarity in the retail universe: retailers that don't care about online sales because their businesses are based on the real-life shopping experience.
An "anonymous billionaire" isn't so anonymous anymore. Luiz Alves Paes de Barros is something of an enigma in Sao Paulo's financial circles. At 69, he's known for quietly padding a massive fortune by wagering on stocks almost no one else seems to want. Now, he's in the spotlight for what may be one of his best bets yet.
U.S. existing-home sales unexpectedly climbed in November to their strongest level since early 2007. They were buoyed by consistent job gains and increases in consumer and business optimism, reflecting expectations that Donald Trump will relax federal regulations.
Get a robot to write your thank-you notes. We're not talking about a computer. Bond, a tech startup in New York, has created a business model around that rarest of gifts—a handwritten note.
The annual kitchen gift guide for a brave new world. From a decent set of measuring spoons for the recent college grad to a vacuum sealer for the gadget freak, you'll find something for every different sort of cook (or wannabe cook).
Before it's here, it's on the Bloomberg Terminal.
LEARN MORE