UN Chief's Best Shot at Korea Presidency: Divide and Conquer
By
Ban Ki-moon signaled this week that he may run for office

Main opposition party has two candidates doing well in polls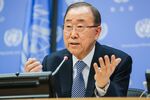 United Nations chief Ban Ki-moon may be the best hope for South Korea's conservatives to hold onto power after President Park Geun-hye's impeachment.
While Ban hasn't joined her Saenuri party, the two are often linked by politicians and analysts because they appeal to the same group of older, center-right voters. And although Ban slipped in the polls as Park's popularity plummeted, he's got one thing going in his favor as he mulls a run at the presidency: His potential opponents are showing signs of divisions.
The main opposition Democratic Party of Korea has two contenders who are in the top three in polls along with Ban: former party leader Moon Jae-in and populist city mayor Lee Jae-myung. Once an election is called -- which could be within 60 days if Park is impeached or resigns -- the party must pick one candidate to stand in the presidential race.
On Thursday, Ban bounced back to first place in a Realmeter poll released after he gave his strongest signal yet that he would run for president.
"The Democratic Party should be preparing now to face Ban, as he is likely the only person that can beat them," said Steven Ward, who teaches political science at South Korea's Chosun University. "If Moon and Lee can't put aside their personal differences, Ban could waltz into the Blue House without breaking a sweat."





Ban on Tuesday told Korean correspondents in New York that he was willing to dedicate himself completely to the nation when he returns home next month after a decade helming the UN. He added that he would need a political ally to engage in politics at home, according to Yonhap.
On Wednesday, two possibilities emerged: The People's Party, the second-biggest opposition party, offered to work with him; and a ruling Saenuri party faction disgruntled with Park also said it would defect with about three dozen lawmakers.
Park was impeached on Dec. 9 for involving her friend, Choi Soon-sil, in state affairs. Prosecutors have also said they collaborated in an alleged scheme to draw tens of millions of dollars from companies. Both deny wrongdoing. Park is now suspended from power until the constitutional court makes a ruling on the impeachment motion.
Ban needs to combat criticism that he is aligned with Park, whose approval rating dropped to as low as 4 percent. Political opponents cite his past comments that praised her policies, including a deal last year with Japan to end a diplomatic stalemate over Korean women sexually exploited by Japanese troops before and during World War II.
Ban, who was South Korea's foreign minister between 2004 and 2006, said last week that citizens believe their "trust for the leadership of country was betrayed."
'Fully Understand'
"That's why people became much more frustrated and angry," Ban said at a Council on Foreign Relations forum. "I fully understand."
Presidential hopefuls who have launched broadsides against Park have seen their ratings rise, including both Moon and Lee. While the two contenders have sought to play nice, tensions have grown at times, particularly after Lee said last month on Twitter that the Democratic Party lost the U.S. election because the "establishment" within their party prevented Bernie Sanders -- and underdog like himself -- from being nominated.
Read about how North Korea's Kim Jong Un is enjoying the Park scandal
A divided South Korean opposition has a history of losing to a united ruling party candidate. Following mass protests in 1987 that forced the military junta to adopt a direct presidential election, former army general Roh Tae-woo won after opposition heavyweights failed to join forces.
That leaves an opening for Ban.
"Voters disgusted with the political establishment have been looking outside of it and found the UN secretary-general," said Nam Chang-hee, a political science professor at South Korea's Inha University. If Ban is able to show he can take control of a political party, "he would match the popularity of the front-runner."
Before it's here, it's on the Bloomberg Terminal.
LEARN MORE