U.K. Companies Plan 2017 Price Hikes as Pound Drop Lifts Costs
By
Majority in BOE survey expect increases of at least 1%

Surging inflation will erode consumer spending power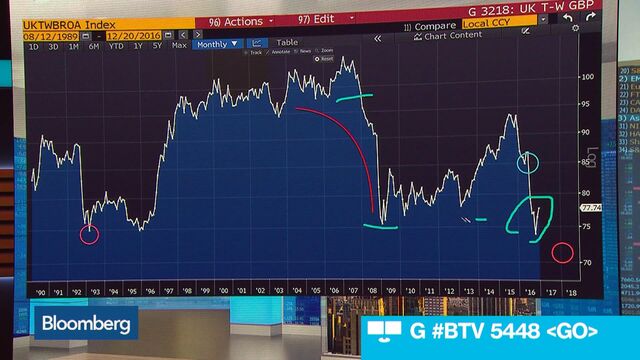 U.K. companies are more likely to hike prices next year rather than absorb the impact of higher import costs caused by the Brexit-induced drop in the pound.
About 80 percent of firms surveyed by the Bank of England expect prices to gain by more than 1 percent in 2017, according to the Agents' Summary of Business Conditions, based on information from a network of central bank representatives across Britain. That compares with about half saying they had seen prices climb over the past year.

"Input cost inflation had picked up sharply," the BOE said. "That was expected to start affecting consumer prices more noticeably in the New Year. Wage growth had remained stable, but some contacts expected upward pressures."
The expected jump in inflation is largely due to the pound, which has fallen 17 percent since the U.K. voted in June to leave the European Union. Higher prices will erode Britons' real incomes and hurt consumer spending next year, and a too-strong acceleration in inflation could push the BOE to respond. A separate report on Wednesday from Citigroup Inc. said Britons' long-term price expectations had risen to a three-year high.
The BOE survey said average prices were expected to increase across all parts of the economy, including retail, and manufacturing recorded the highest reading. The factors most often cited as driving costs higher included imports and finished goods, labor and energy.
The central bank's regional agents questioned about 350 companies with combined U.K. sales of about 75 billion pounds ($93 billion) in October and November. The report also highlighted a positive from the pound's decline, saying it was boosting export sales and encouraging tourists to spend more as they took advantage of the weaker currency.
The BOE's latest overview of the economy comes a week after policy makers kept their key interest rate on hold at 0.25 percent and maintained their current package of stimulus. They also kept their neutral stance, saying they could respond in "either direction" to changes in the economic outlook as they work to balance the upswing in inflation with support for the economy.
Before it's here, it's on the Bloomberg Terminal.
LEARN MORE