Trump Summons Contractors to Mar-a-Lago Over Spending
By and
Boeing CEO says new Air Force One will cost under $4 billion

Pentagon has rebutted Trump's reproach of F-35 fighter costs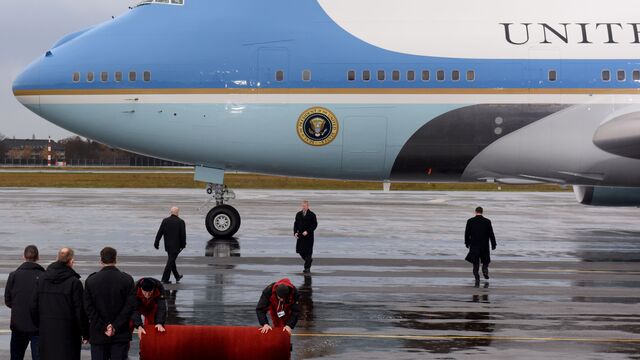 The two largest U.S. defense contractors said Wednesday they would seek to control their costs after President-elect Donald Trump summoned them and a bevy of top Pentagon officials to his Mar-a-Lago resort in Florida to discuss military spending.
"We're trying to get costs down, costs," Trump told reporters in brief remarks outside the resort after the officers departed. "Primarily the F-35. That program is very, very expensive."
Trump has employed his Twitter account and its nearly 18 million followers as a weapon against defense contractors, using it to criticize the expense of Boeing Co.'s planned update of Air Force One and Lockheed Martin Corp.'s $379 billion F-35 Joint Strike Fighter, the most expensive U.S. weapon system ever. Boeing Chief Executive Officer Dennis Muilenburg said he told Trump the planemaker can build a new version of the presidential aircraft for less than $4 billion.
"We're going to get it done for less than that, and we're committed to working together to make sure that happens," Muilenburg told reporters as he left the Florida resort. The $4 billion price tag for the plane program is a number Trump used in a tweet and well exceeds the Pentagon's estimated cost.
Lockheed CEO Marillyn Hewson didn't announce any new commitments to Trump, while signaling the company has been making progress in lowering costs.
"I appreciated the opportunity to discuss the importance of the F-35 program and the progress we've made in bringing the costs down," she said in a statement after her meeting. "The F-35 is a critical program to our national security and I conveyed our continued commitment to delivering an affordable aircraft to our U.S. military and our allies."
Boeing shares ended 0.7 percent higher at $157.48 on Wednesday in New York, while Lockheed shares slipped 0.5 percent to $252.52.
Spending Resurgence
Defense companies stand to benefit from a resurgence in military spending promised by Trump and already underway in Western Europe and Asia as global tensions rise. In fact, it could be the best environment for investing in defense stocks in a decade, Ron Epstein, a defense analyst with Bank of America Corp. said in a Dec. 7 presentation.
Trump's Twitter outbursts toward the two contractors may be an attempt to harmonize two competing objectives: higher spending on the military and "reform and discipline," said Richard Aboulafia, a defense analyst with Teal Group, said in a report this month. "Those goals are tough to reconcile."
Muilenburg said he gave Trump his "personal commitment on behalf of the Boeing Company." The Chicago-based manufacturer will build the new 747 jets and outfit them to the Pentagon's specifications, which include secure communications and anti-missile defenses. Boeing is just beginning work on the systems that will go into the new aircraft and hasn't yet been awarded a contract for construction of the planes.
"We're looking to cut a tremendous amount of money off the price," Trump told reporters.
The Pentagon has so far budgeted $3.2 billion for research and development, military construction and acquisition of two of the planes through fiscal 2021, said Kevin Brancato, the lead government contracts analyst for Bloomberg Government.
F-35 Troubles
Trump didn't say whether he had won any concessions from Hewson.
"It's a dance, you know. It's a little bit of a dance," he said. "We're going to get the costs down and we're going to do it beautifully."
The Pentagon has rebutted Trump's criticism of the troubled F-35. Lieutenant General Christopher Bogdan, who heads the office responsible for developing and acquiring the fighter jet, told reporters on Monday that the project has "basically been on schedule" and "on budget" since 2011.
Bogdan was among the military officials Trump met with Wednesday. Others in the group included Vice Admiral James Syring, who heads the Missile Defense Agency; Jimmy MacStravic, a top deputy to the Pentagon's chief weapons buyer Frank Kendall; and Vice Admiral Tom Moore, head of the Naval Sea Systems Command.
The plane has suffered a series of delays and missteps blamed on its complicated technologies, including stealth capabilities and versatility. Different configurations of the fighter are supposed to become the mainstays of the Air Force, Navy and Marine Corps.
Despite its early stumbles, costs for the stealth fighter have fallen steadily in recent years as it approaches full production. Lockheed expects to lower manufacturing costs to $85 million a plane by the end of the decade, in line with the expense for current-generation fighters.
Trump spoke briefly with reporters earlier Wednesday but didn't mention his meetings with the two executives. They were publicly announced shortly before Muilenburg arrived at the resort.
— With assistance by Anthony Capaccio
(
Updates with shares in seventh paragraph. Earlier versions of the story corrected the spellings of Boeing CEO's name and Lockheed.
)
Before it's here, it's on the Bloomberg Terminal.
LEARN MORE