markets
Saudis to Unveil Roadmap to Balanced Budget, Possible Surplus
By , , and
Government said to consider raising fuel prices again in 2017

Authorities plan payouts next year to offset subsidy cut blow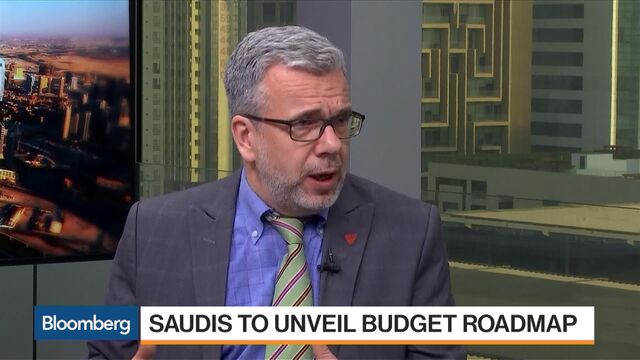 Saudi authorities will on Thursday unveil steps to balance one of the highest budget deficits in the Middle East and possibly achieve a surplus in 2020, according to a senior government official with knowledge of the matter.
The plan will focus on bolstering non-oil revenue and will seek to shield middle- and low-income earners from the impact of the planned measures, the official said on condition of anonymity. The economic council chaired by Deputy Crown Prince Mohammed bin Salman devised the plan, the official said.

The prince is leading the biggest economic shakeup in the kingdom's history in a bid to reduce its reliance on oil, a task some analysts said will take years and require tough measures that could dampen economic growth. The budget deficit surged to 15 percent of gross domestic product in 2015.
"The price of oil will be a critical factor if this target is to be achieved in 2020," said Monica Malik, chief economist at Abu Dhabi Commercial Bank. "The manner through which reforms were undertaken in 2016 is also promising, though we do not expect this pace will likely be maintained. Reforms will need to continue in the coming few years, especially on growing the non-oil revenue."
Authorities raised fuel prices last year as part of a plan to restructure subsidies, and are considering increasing prices again in 2017, according to a person familiar with the matter.
Fuel Prices
The government is looking into two scenarios for the increase in local retail fuel prices: either linking them to benchmark oil prices or to the average of gasoline and diesel fuel prices on the international market, the person said.
To help Saudis cope with subsidy cuts, the government will start a cash-transfer program to compensate all but the wealthiest, according to two people with knowledge of the plan. Families affected by the measures can register for cash transfers from Feb. 1 and the payments will start in June, they said. The two spoke on condition of anonymity because they're not authorized to release the details.
Under the prince's National Transformation Program announced this year, the government wants to reduce its wage bill, and encourage Saudi nationals to seek jobs in the private sector. In October, it suspended bonuses and trimmed allowances for its employees, including a 20 percent cut to ministers' salaries.
The International Monetary Fund expects the budget shortfall to narrow to 13 percent in 2016 before dropping below 10 percent next year, helped by a projected increase in oil prices.
— With assistance by Ahmed Feteha
Before it's here, it's on the Bloomberg Terminal.
LEARN MORE