James Taylor Cancels Manila Show in Protest at Duterte's War on Drugs
By and
Musician concerned by thousands killed in Philippine campaign

Killings have prompted worldwide condemnation, strained ties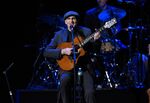 American musician James Taylor has canceled his scheduled February show in the Philippine capital Manila in protest over extrajudicial killings in President Rodrigo Duterte's war on drugs.
"For a sovereign nation to prosecute and punish, under the law, those responsible for the illegal trade in drugs is, of course, understandable, even commendable," Taylor wrote in a post on his website dated Tuesday. "But recent reports from the Philippines of summary executions of suspected offenders without trial or judicial process are deeply concerning and unacceptable to anyone who loves the rule of law."
Duterte, who took office in June, has made good on his campaign pledge to launch a bloody campaign to suppress illegal drugs, with police saying about 2,000 people have been killed in operations linked to the drug war with another 3,000 deaths under investigation. The campaign has drawn international condemnation and strained Philippine relations with the U.S., European Union and United Nations as Duterte has bristled at their criticism.

Duterte has repeatedly rejected criticism that the killings are extrajudicial, saying that police only fire at suspects resisting arrest. He has called illegal drugs a pandemic, and vowed that the campaign will continue throughout his term.
The UN High Commissioner for Human Rights Zeid Ra'ad Al Hussein on Tuesday called for Philippine authorities to investigate Duterte for murder after the president claimed to have personally killed people in the past. He also called for "credible and independent" investigations into "the shocking number of killings that have occurred across the country since Mr. Duterte became president."
Taylor apologized to fans for the cancellation of the show and said refunds would be provided for all ticket purchases.
"I don't think of my music as being particularly political but sometimes one is called upon to make a political stand," he wrote.
Before it's here, it's on the Bloomberg Terminal.
LEARN MORE