Italian Government Wins Green Light On Debt Boost to Aid Banks
by
Parliament agrees to raise debt by up to EU20 billion

Lender Monte Paschi seen as first beneficiary if recap fails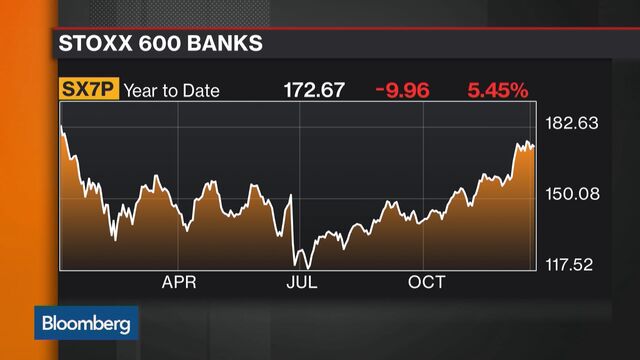 The Italian government won the support of parliament to boost the country's public debt by up to 20 billion euros ($21 billion), as it prepares for likely rescues of Banca Monte dei Paschi di Siena SpA and other troubled lenders.
Both houses of parliament voted to allow the administration of Prime Minister Paolo Gentiloni to earmark additional financing next year. Monte Paschi, Italy's oldest bank, may be among the first beneficiaries of the extra state funds as its effort to raise 5 billion euros from money managers and individuals is failing to enthuse investors.
The woes of Italy's banking sector, which weigh on a weak economy, are the first test for Gentiloni, a 62-year-old former foreign minister who replaced Matteo Renzi as premier after a Dec. 4 constitutional referendum defeat. Renzi has been pressing for early elections in the first half of next year.
'Fresh elections'
"If the Europeans for some reason decide to oppose the way in which Italy decides to do its bank bailout, if it needs to do it, then you end up with a confidence motion against the government, and then essentially you get fresh elections," Michael Metcalfe, global head of macro strategy at State Street Global Markets, told Bloomberg Television's Guy Johnson.
Shares in Monte Paschi plunged to a record low amid worries the search for capital will fail, falling as much as 17 percent to 15.47 euros, the lowest since they began trading in 1999, before being suspended.
Speaking in the lower house, Finance Minister Pier Carlo Padoan said on Wednesday the "precautionary" request for a debt boost aims to fund "possible measures to guarantee banks liquidity and possible recapitalizations." For this reason, he added, he could not supply data on individual lenders, for which intervention would be "assessed case-by-case."
Retail Savers
"In defining possible intervention criteria, the government reaffirms its commitment to the maximum safeguard of retail savers, taking into account margins" granted by European rules on state aid and the banking directive, Padoan said. The impact on savers will be "minimized or made inexistent," he added.
The anti-establishment Five Star Movement, which is neck and neck with Gentiloni's Democratic Party in opinion polls, has demanded a parliamentary investigation into Monte Paschi.
"There is only one solution: let's nationalize Monte Paschi," Five Star lawmaker Alessio Villarosa said in the lower house debate. "You've given money without any security and you haven't solved anything, to the contrary."
Monte Paschi is struggling to complete its recapitalization plan by Dec. 31. Qatar's sovereign wealth fund, which had considered an investment, hasn't yet committed to buying shares, while a second debt-for-equity swap has raised about 500 million euros through Tuesday, a day before it expires, people with knowledge of the matter have said.
Cabinet Meeting
If Monte Paschi's efforts fail, a cabinet meeting on Friday will decide how to use government funds in the bank's recapitalization, a government official said. The government is studying a so-called precautionary recapitalization that may reduce the potential losses of the bank's bondholders, which are likely under European burden-sharing rules.
Other banks which may win support include Veneto Banca SpA, Banca Popolare di Vicenza SpA and Banca Carige SpA, according to a person with knowledge of the matter.
Ex-premier Silvio Berlusconi, leader of the opposition center-right Forza Italia party, supported the debt boost saying that Monte Paschi "must absolutely be saved, whatever Europe says."
Before it's here, it's on the Bloomberg Terminal.
LEARN MORE