Leading German Dealmaker Brings Linde Merger Back From Ashes
By , , and
German gas supplier agrees to merge with competitor Praxair

Reitzle drove deal after previous try collapsed in September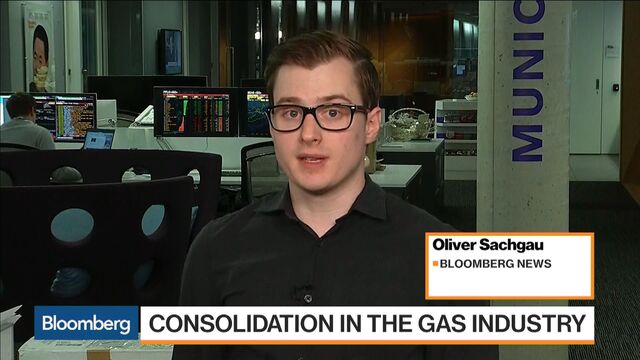 Four months ago, Wolfgang Reitzle's reputation as Germany's deal wizard was in tatters.
Linde AG, the company he chaired, had just torpedoed its own plan to merge with rival Praxair Inc. to create the world's largest industrial-gas company. The chief financial officer, a former close associate who then opposed the deal, was out within days and the chief executive officer was headed for the door. Linde lost almost $2 billion in value the September day the talks collapsed.

Now, Reitzle has reached an agreement to merge Linde into Danbury, Connecticut-based Praxair in a transaction valued at $33.8 billion. Some operations will stay in Munich and no layoffs in Germany can take place for six years, easing union concerns that had soured the original plan. Reitzle stays on as chairman. For the former top executive at Holcim Ltd., Ford Motor Co. and BMW AG, it's a dream more than a decade in the making.
"Reitzle was under a lot of pressure to make it work this time around," said Bernhard Weininger, an analyst at Independent Research GmbH in Frankfurt. "Now he has the reins in his hands."
Reitzle, an engineer by training, made Linde what it is today. As CEO from 2003 to 2014, he turned a diffuse conglomerate based in the sleepy spa town of Wiesbaden into a industrial-gases behemoth run out of a gleaming new headquarters in Munich, home to global champions like Siemens AG, Allianz SE and BMW. While his move to Linde had surprised the corporate world, he quickly showed his knack for dealmaking. He jettisoned the refrigeration and forklift units, and bulked up in industrial gases with major acquisitions totaling $22 billion.
For an analysis of the merger from Bloomberg Gadfly, click here

In the unglamorous world of industrial gases, Reitzle has always cut an unlikely figure. Married to German TV anchor Nina Ruge, he displays a penchant for the finer things in life and is known for his attention to detail. Sporting trim bespoke suits, rimless spectacles and a pencil-thin Errol Flynn mustache, he's the author of the 2001 book "Luxury Creates Prosperity," in which he argues that luxury goods are more likely to spur innovation than are other consumer products.

Through Linde's press office, Reitzle declined to comment.
Reitzle, 67, didn't play the merger game just at Linde. In a brief interim between his stints as CEO and chairman there, he chaired Swiss cement maker Holcim Ltd. There, he helped broker a $35 billion cement merger with Lafarge SA -- in the process assuaging the concerns of his own board and gaining more power than the Lafarge chairman. 
He was Linde CEO when the company agreed to buy larger U.K. competitor BOC Group Plc for about 8 billion pounds ($10 billion). The acquisition vaulted the German firm to No. 1 in industrial gases at the time and is still used as a case study for successful acquisitions in MBA programs in Germany.
Gas Slump
The deal with Praxair -- Germany's second-largest merger this decade after Bayer AG's purchase of Monsanto Co. -- is a riposte to Air Liquide SA's $13 billion purchase of Airgas Inc. It may also serve to detract from the current slump in industrial gas projects that has hit Linde results. With the company now more dependent on gas for revenue, size is a crucial factor. Industrial gas makers are seeking new revenue streams and better margins amid slowing growth in China and weaker demand from steel, oil and natural gas customers.
Reitzle has a "long track record as a dealmaker and surely is the driving force at Linde behind this merger," said Christopher Schaefer, portfolio manager at shareholder Union Investment in Frankfurt. "The deal would be good for Praxair, good for Linde and good for the entire industry."
The merger faced challenges in its second iteration amid German political and union concern that the new company would cut jobs and operations in the country, especially in Linde's historical base in Munich. Those worries were assuaged when German unions said they won assurances no layoffs would happen until 2022 and certain German sites, particularly a Dresden plant slated for closure, would be kept open. 
Ousted CFO
Similar issues were what ended negotiations earlier this year. Then-Chief Financial Officer Georg Denoke drummed up opposition behind the scenes among labor representatives because he wouldn't have kept his CFO job in the combined company, people familiar with the discussions said at the time. He was ousted in September. He didn't respond to requests for comment. CEO Wolfgang Buechele announced he would be leaving. Reitzle brought in retired company veteran Aldo Belloni, who joined the negotiations.
Praxair CEO Stephen Angel, who will lead the combined company, was key in resurrecting the deal. He sent a letter in November to his counterpart at Linde, proposing a revival of talks and addressing some of the German company's original concerns about the balance of power, according to people familiar with the matter. Reitzle supported Praxair's new offer and warned executives that the U.S. company could go hostile if the Germans didn't agree, Handelsblatt newspaper reported on Dec. 1, citing people close to the supervisory board.
For a Gadfly analysis of the failed deal, click here
Born in Neu-Ulm in southern Germany, Reitzle trained as an engineer before studying business at Harvard University. He spent 22 years at BMW, where he rose to product development chief and helped develop successful models, including the X5 sport-utility vehicle. When BMW passed him over as CEO in 1999, Reitzle joined Ford to head its high-end Premier Automotive Group division, overseeing brands such as Aston Martin, Jaguar and Lincoln.
The jury is still out on another of Reitzle's deals. The LafargeHolcim combination was followed by a drop in earnings and a plunge in the share price. Delays in asset disposals and high-profile executive departures eroded confidence, with some investors lamenting that the merger destroyed shareholder value. Reitzle stepped down earlier this year.
Independent Research's Weininger says Reitzle has more plans for Linde.
"He's going to be able to shape the company more, which is of course in his interest," he said. "We shouldn't assume that he's going to lean back and say, 'OK, I managed to get the deal, now I'm done."
Before it's here, it's on the Bloomberg Terminal.
LEARN MORE