business
May's Plans for Quick Brexit Trade Deal Muddied by EU Court View
By and
Legal opinion may point to how U.K. deal is ratified in Europe

Belgian region temporarily blocked EU-Canada pact in October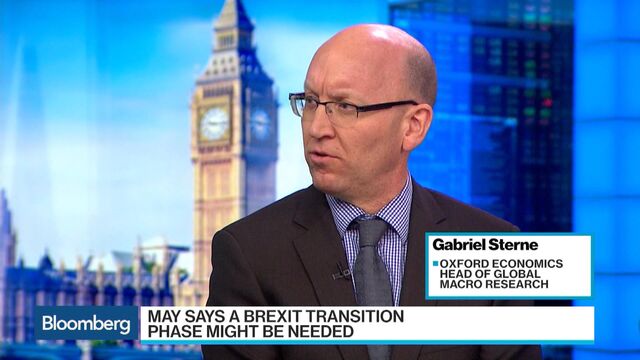 An opinion by the European Union's top court on Wednesday may pave the way for an important Brexit precedent after it said that ratification by EU institutions isn't enough to pass a trade deal with Singapore.
For U.K. Prime Minister Theresa May, the implications could be big. The EU Court of Justice advocate-general's view that member states must also approve the accord with the Asian city state means May might have to negotiate with 27 other national parliaments and in some cases their regional lawmakers if she wants a wide-ranging trade agreement with the bloc. So much for her plan to wrap up talks in 18 months.
The Court opinion gives "a sense of the legal gymnastics that are involved in EU trade policy, and which may also need to be deployed in U.K.-EU talks," said Aarti Shankar, policy analyst at the London-based Open Europe think tank.
The decision might just shatter any illusions that the U.K. can secure a swift and favorable exit out of the bloc. Anti-free trade populists are gaining ground in Europe and agreements are becoming increasingly difficult to bring to completion. For evidence look no further than the Belgian region of Wallonia, which alone held back a long-awaited deal with Canada.
While the opinion is non-binding until a final ruling in several months' time, the Luxembourg-based court follows such legal advice in the majority of cases. It'll still be up to the EU to decide how any future U.K. deal is ratified, depending on its content. The U.K. may still argue that its case is different because it's moving away from the EU rather than setting up a new relationship.
Why Technicalities Matter
The legal case hinges on the extent to which the trade deal with Singapore, under negotiation since 2010, contains elements that remain the authority of nations rather than the centralized bloc. Advocate General Eleanor Sharpston said that some aspects, such as dispute settlement, labor and environmental standards and trade in air transport services, fall under national jurisdiction, so countries must also ratify it.
"While the Advocate General notes that difficulties may arise from a ratification process involving all of the member states alongside the EU, she considers that that cannot affect the question of who has competence to conclude the agreement," the Court said in a statement.
Things would be better for May if the court ultimately goes against the non-binding opinion and rules that the EU is able to approve the Singapore deal on its own. That would increase the odds of the U.K. getting an agreement that is wide in scope but doesn't need to go through so many hoops.
"After seeing the instability surrounding approval of the EU-Canada deal, which is still to be ratified, the U.K. may be seeking a way to avoid the lengthy process of national ratification and fast-track a U.K.-EU deal," said Shankar.
A Decade of Talks?
Since she took office, May has been determined to talk up the prospects for a quick and good deal. On Tuesday, she stuck to her timetable and said a final deal could be reached by September 2018. But not everyone with ties to her government agrees with her.
Just last week May's office downplayed remarks attributed to the U.K.'s top envoy to Brussels, Ivan Rogers, who said it could take 10 years to negotiate a final free-trade deal with the EU -- and that even then it could still be scuppered by any one national parliament.
On Wednesday, the bloc's highest court might have just made that same point, but in legal language.
— With assistance by Tim Ross, and Chris Elser
Before it's here, it's on the Bloomberg Terminal.
LEARN MORE