business
Credit Suisse Planning About 900 Swiss Job Cuts Next Year
By and
Bank said to have eliminated 800 positions at home in 2016

Credit Suisse seeking to boost profitability before 2017 IPO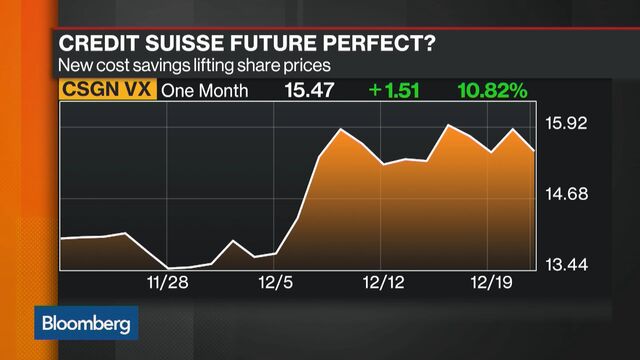 Credit Suisse Group AG is accelerating job cuts in its home market to lift profitability as it gears up for a partial sale of the Swiss division, according to two people with knowledge of the matter.
The bank plans to eliminate about 900 positions in Switzerland next year, possibly enabling it to achieve -- perhaps even surpass -- its target a year earlier than expected, said the people, who declined to be named as they weren't authorized to discuss the matter. One person said Credit Suisse has already abolished 800 jobs at home this year, toward a goal of 1,600 cuts by the end of 2018.
A spokesman for Credit Suisse in Zurich declined to comment.
While the bank said this month that it has eliminated 6,050 jobs worldwide this year, it didn't break down the number by division or region. Nor did it say how many jobs may be threatened by continued cost-cutting next year as Chief Executive Office Tidjane Thiam tries to keep his overhaul on track.
Switzerland is a major plank in Thiam's plans to increase profitability by scaling back investment banking in favor of wealth management activities that require less capital. Credit Suisse plans to raise 2 billion francs ($1.95 billion) to 4 billion francs in an initial public offering of 20 percent to 30 percent of the Swiss unit before the end of 2017.
Most employees in Switzerland work for the Swiss universal bank, Credit Suisse's biggest unit globally with a headcount of 13,440 at the end of the third quarter. Earlier this month, Credit Suisse reaffirmed its profit target for the unit even as it scaled back ambitions in international wealth management and in the Asia-Pacific region. At the same time, the head of the Swiss universal bank, Thomas Gottstein, said the unit is seeking 200 million francs in cost savings by 2018.
Cost measures are "clearly identified and ready for implementation," he told investors at a conference. "We confirm our divisional pre-tax income target of 2.3 billion francs for 2018, subject to market conditions."
Before it's here, it's on the Bloomberg Terminal.
LEARN MORE