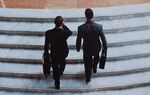 A widening gap between C-Suite and the admin desk could be contributing to global anger.
The disconnect between economic growth and wage increases is rising again after shrinking soon after the 2008 crisis, the International Labour Organization's latest Global Wage Report shows. Workers feeling cheated of their fair share of progress may feed into rising frustration, the authors, led by Philippe Marcadent, wrote.
"Wages are about more than money; they matter from the point of view of fairness and human dignity," they said.

Poorer workers have been linked to surging populism over the past few years, culminating in the election of Donald Trump as the U.S. president. While globalization has often been cited as the main culprit, other reasons include the adoption of technology that calls for skilled operators and pressure from the financial markets to shift profits to investors.
Top 10 Percent
Across European enterprises, the top 10 percent wage bracket is dominated by chief executives and managers of large, closely held corporations -- typically men over 40 years of age who hold university degrees and indefinite contracts. Real estate and finance executives have an outsize share, the data show.
Emerging markets show more disparities as you compare countries. For instance, a university degree may be more important in Russia than in China, where you could get by with vocational education. Similarly, a finance executive in Chile is more likely to get a top wage than one in Mexico.
However, these characteristics can be found in significant numbers across other wage brackets too, pushing for more interpretations of inequality beyond individual qualities.

One place to look could be within an enterprise.
"The extent of wage inequality within enterprises -- and its contribution to total wage inequality -- has perhaps been underestimated in the past," said Guy Ryder, director-general of the ILO. "These findings have important policy implications."
What the ILO found, is that while wage gaps are rampant between high- and low-skill sectors, they aren't always the largest contributor to overall inequality. Wage inequality within an enterprise has risen equally over recent years in U.S. mega-firms, which employ more than 10,000 workers. In Europe in 2010, wage inequality within enterprises accounted for almost half of total wage inequality
"Within enterprises, two important factors have been the decline in wage premium for low-skilled workers in large firms and the growing wages of corporate managers, CEOs and high-skilled professionals," the report said. This pattern is most visible in the U.S. and UK but is becoming more popular in Japan, South Korea and South Africa.
"In general, the higher the average wage in an enterprise, the more wage inequality within that enterprise."
Global Coordination
The ILO called for more global policy coordination to ensure that governments don't resort to competitive wage cuts to boost business. Minimum wages and collective bargaining at the national level can also work, as will more self-regulation at the corporate level.
"In practice, however, it seems that many CEOs effectively determine their own pay, and shareholders have been unable to ensure fair executive remuneration in line with social values or even with company performance," the report said. "This raises the question whether more regulation is necessary to discourage such compensation packages."