Egypt Seen Extending World-Best Stocks Surge Since Fed Hike
By
Shares will rally in 2017 in dollar terms: EFG-Hermes

Foreign investors net buyers every day since pound float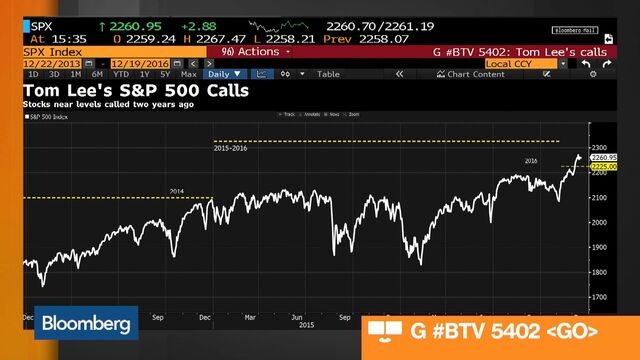 Egyptian stocks are shrugging off emerging-market losses to post the world's biggest gains since the Federal Reserve raised interest rates. The rally may extend into 2017, according to EFG-Hermes Holding.
The nation's Nov. 3 decision to float its currency, effectively cutting its value by half, has unleashed the biggest inflows of foreign investment into the stock market since the 2011 Arab Spring. The pound's weakness has kept the benchmark EGX 30 Index trading at a discount of 33 percent in dollar terms to its pre-float value.

Egypt is "disconnected from the negative impact on emerging markets due to rising U.S. rates and a stronger dollar," said Mohamad Al Hajj, Dubai-based equity strategist for the Middle East and North Africa at EFG-Hermes Holding. "People are taking the view that the pound has overshot and will appreciate, in addition to expected earnings recovery next year."
The $32 billion bourse will hand investors positive returns in dollar terms next year, Al Hajj said, as Egypt implements policies to stimulate growth. The most populous Arab country this year raised fuel prices, adopted a value-added sales tax and is planning to curb public-sector wage growth -- all steps that helped it secure the International Monetary Fund's biggest ever loan to a Middle Eastern nation.
The deal may help the country replicate high economic growth seen between 2003 and 2008, said Bassel Khatoun, who manages $87 million as Franklin Templeton Investments' Dubai-based chief investment officer for the Middle East and North African equities. He is overweight on Egypt, as well as stocks in the United Arab Emirates for next year.
The EGX 30 advanced 1.8 percent to a record at the close in Cairo, taking its gains since the Federal Reserve raised interest rates on Dec. 14 to 9.3 percent. That compares with a 2.3 percent decline for MSCI's developing markets gauge.
The pound strengthened 0.2 percent to 19.317 per dollar, paring losses since it was freed to 54 percent. Foreign investors have been net buyers of more than $300 million of shares since Nov. 3, according to bourse data.