Style
The 36 Best Skinny Gloves for the Winter Season
These will allow your fingers to move freely while providing much-needed protection this winter.
By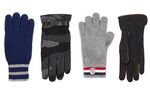 Finding a pair of gloves that are warm is easy, but finding a pair that's slim and fits well is often a struggle. Lots of brands get this right, such as Burberry, Coach, and Brooks Brothers. Yet it can feel impossible to locate the perfect, handsome set when you need it.  
Below, we have three dozen pairs that should do the trick for any number of different situations—from when you have to use your phone outdoors to those times you just need a nice looking flourish to an otherwise complete outfit. 
A word to the wise: Get more than one of these pairs. Come April, you're going to have an odd number of gloves, so just get used to the idea now and plan ahead. 
Leather 

You can't go wrong with a classic, and it never hurts to have an additional few pairs of leather gloves. Start with basic black, then get a brown pair, and then feel free to branch out with colors and patterns.
Mixed Media 

Gloves can be fun, as with these guys, which are considered to be more fashion-forward: mixing  such classic fabrics as leather with more interesting ones like tweed or perforated suede.  
Cashmere 

Cashmere is one of the warmest fabrics when it comes to gloves, a fine, luxurious material to wrap your hands in, even on a mild day.
Texting Gloves 

Most fashion brands now offer gloves made with special fabric, typically on the index finger and thumb, which allows you to use touch screens while keeping your hands warm. They're not necessarily ugly, either.
Wool

If you want something more laid-back and casual, try wool-fabric or knit gloves. Just make sure not to participate in snowball fights; these guys aren't equipped for that. If you think having cold hands is unpleasant, try cold, wet hands. 
Fingerless

These aren't for everyone, but some of you just want to channel your inner Marv from Home Alone, and bless you for it.
Before it's here, it's on the Bloomberg Terminal.
LEARN MORE