Libya Reopens Oil Fields as Biggest Terminal Is Set to Load
By
NOC confirms Sharara, El Feel reopening to help boost output

Tanker Alicante starts loading at Es Sider oil port: Omran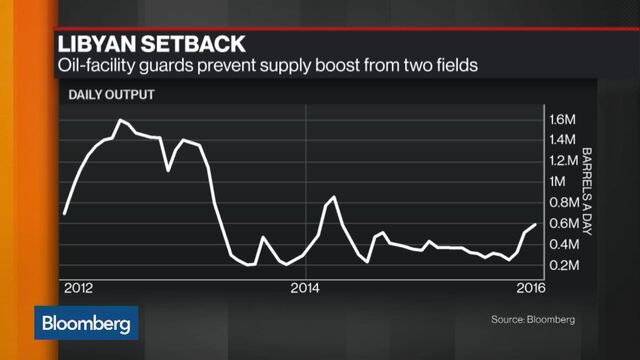 Libya reopened two of its biggest oil fields and began loading its first crude cargo in two years from its largest export terminal as the war-torn country pursues plans to almost double output in 2017.
Pipelines connecting the Sharara oil field to Zawiya refinery, and the El-Feel deposit to the Mellitah energy complex, have reopened, according to a statement by the state-run National Oil Corp. The renewed flow from the fields will help boost the country's oil production by 175,000 barrels a day within one month and 270,000 barrels a day within three months, it said. 
Oil from Sharara, Libya's largest field, began arriving Wednesday at Zawiya, about 720 kilometers (450 miles) to the north, Mansur Abdullah, the manager of the refinery's oil movement department, said in a phone interview. Also on Wednesday, a tanker began loading the first export from Es Sider oil port since the terminal was closed in 2014, Adnan Omran, general manager of Al Omran International Maritime Agencies, said by phone.
"I welcome the statement by the Rayayina Patrols Company of the Petroleum Facilities Guard, Western Branch, announcing lifting of the blockade on all the pipelines," NOC Chairman Mustafa Sanalla said in the statement posted Tuesday on the company's website. "There were no payoffs and no backroom deals. For the first time in nearly three years, all our oil can flow freely. I hope this marks the end of the use of blockade tactics in our country."
Crude Prices
Libya's comeback will put more pressure on the Organization of Petroleum Exporting Countries and other major producers that agreed over the past three weeks to cut their output to rein in an oversupply and shore up prices. The North African nation, which was exempted from OPEC's planned cuts because of its internal strife, is currently producing 600,000 barrels a day, less than half of the 1.6 million it pumped before a 2011 uprising.
"Anything that weighs on oil prices right now," -- whether it's rising Libyan supply, a leap in the U.S. rig count, or the Federal Reserve's interest-rate guidance for 2017 -- "is a problem for OPEC," Derek Brower, managing director of research at Petroleum Policy Intelligence, a U.K.-based consultant, said Wednesday by e-mail. "If the cuts don't bring a sustained rally, then some producers will be tempted to push volume."
Brent crude futures rose as much as 52 cents, or 0.9 percent, to $55.87 a barrel on the London-based ICE Futures Europe exchange and traded at $55.57 as of 1:14 p.m. local time. The contract climbed 43 cents to $55.35 a barrel on Tuesday.
Repsol, Eni
The OPEC member with Africa's largest oil reserves is struggling to recover from years of conflict between rival governments and militias. It's targeting production of 900,000 barrels a day by the start of 2017 and about 1.2 million barrels by the end of next year, Sanalla said Wednesday in Cairo.
Sharara, operated by a joint venture between NOC and a group of companies including Spain's Repsol SA, Total SA, OMV AG and Statoil ASA, has an output capacity of about 330,000 barrels a day, NOC said in its statement. The field started pumping 58,000 barrels a day on Tuesday and should produce as much as 80,000 by Thursday, Sanalla said.
El-Feel, or Elephant, is operated by a joint venture between Italy's Eni SpA and NOC and can produce about 90,000 barrels a day, NOC said in its statement.
The pipelines had been blockaded at a key valve at the town of Rayayina since November 2014, in the case of the Sharara line, and since April 2015, in the case of the El-Feel line, NOC said. The fields' restart can add $4.5 billion to NOC's revenue next year at current oil prices, Sanalla said.
The tanker Alicante will sail to Italy from Es Sider, the country's biggest port, after loading about 600,000 barrels of crude, Omran of Al Omran International Maritime Agencies said.  
Es Sider, on the central coast, had been closed since December 2014, when armed groups attacked the facility and damaged storage tanks and infrastructure. It reopened in September, but maintenance was needed before loadings could restart.