Scots Declare Brexit Red Lines After New Independence Threat
By
First Minister Sturgeon puts forward plans for bespoke deal

Polls show pushing for another independence vote has its risks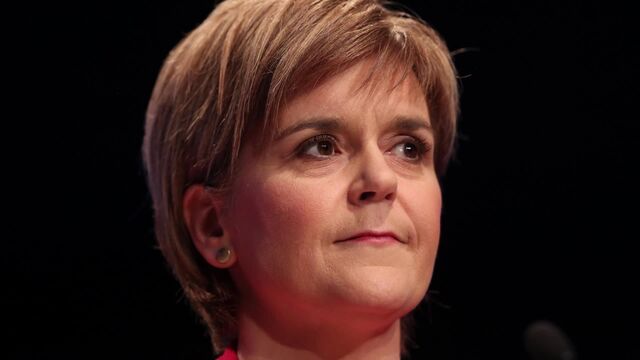 Scotland set out its vision for remaining in Europe's single market after vowing to seek independence from the U.K. should its voice be ignored in Brexit talks.
First Minister Nicola Sturgeon detailed her semi-autonomous government's red lines on keeping access to free trade and labor as the U.K. heads into talks on withdrawing from the European Union next year. Scotland wants power over such things as employment law, trade and immigration and the ability to conclude international agreements. Sturgeon reiterated at the weekend her stance on calling for a fresh vote on breaking away from England and Wales if Scotland's demands aren't met.
"This is the only plan anywhere in the U.K. setting out the route forward," Sturgeon said at a press conference in Edinburgh after a Scottish government paper was published on Tuesday. "Literally every single thing about Brexit is difficult and unprecedented, so this whole process is going to demand being flexible, imaginative and creative."
It leaves British Prime Minister Theresa May fighting on two fronts and, potentially, having to confront two divorces from unions that looked solid less than a year ago. Scots chose to remain in the U.K. in an independence referendum in 2014 but the nationalist leadership renewed its push for full autonomy after the Brexit vote on June 23.
All of Scotland's regions voted to remain in the EU while the U.K. as a whole decided to leave, a result that Sturgeon called "democratically unacceptable." She then asked her ministers to prepare legislation on another independence vote that could be accelerated through the Scottish Parliament.
More Control

In its 50-page policy paper called "Scotland's Place in Europe," the government in Edinburgh laid out how it wants the U.K. to cede more powers as part of Brexit talks so Scotland can forge its own path with the EU. That's if the U.K. opts for what's become known as a "hard Brexit" and leaves the bloc without access to the single market.
"As a government we remain committed to EU membership as an independent nation," Sturgeon said in the preface to her government's paper. "However, the proposals in this document are our contribution to ongoing efforts to build consensus. They represent a compromise on our part, but also what we consider to be requirements for Scotland if a U.K. solution to Brexit is to be found."
While the focus has been on the pressure mounting on May, who said on Monday she would listen to Scottish demands "very seriously," Sturgeon's gambit doesn't come without risks.
Read More: A QuickTake on Scotland's Independence Push
Should Sturgeon go for a bespoke EU deal, there are sizable legal and practical hurdles involved in Scotland establishing separate legislation to the rest of the U.K. on the labor market and for businesses given the open border with England, its biggest trading partner. Citing Northern Ireland's seamless border with Ireland, Sturgeon said on Tuesday that arrangement would remain if Scotland were to keep its place in the single market.
When it comes to independence, the most recent polls show a majority of Scots still want to remain in the U.K. and aren't even sure if they want another referendum on leaving it.
So if the U.K. government balks at Scotland's demands and then pursues a Brexit deal that's unpalatable for Edinburgh, Sturgeon may find herself in another referendum campaign yet with similar question marks over Scotland's currency and financial health following the decline in North Sea oil revenue.