benchmark
PBOC's Shadow Banking Curbs Risk Deepening Junk Bond Rout
Bloomberg News
Certain wealth management products to grow slower: Silver Leaf

Demand for lower-rated bonds may drop in coming quarters: Chen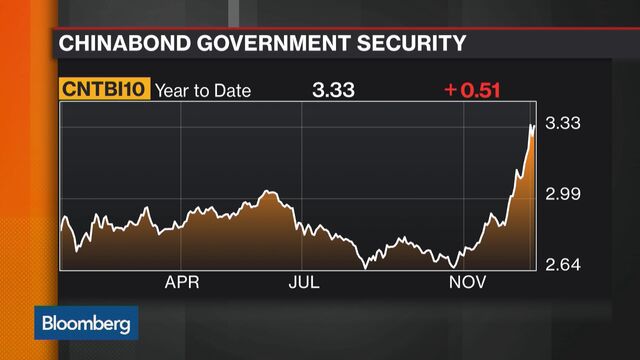 A lifeline for China's local junk bonds is about to get cut, threatening financing for weaker companies already grappling with mounting defaults.
The People's Bank of China will include wealth management products that are held off bank balance sheets in its framework for gauging risk to the financial system starting in the first quarter, a newspaper controlled by the central bank said Monday. The monitoring may drag on growth of WMPs that banks authorize third-party asset managers to oversee so they can purchase riskier debt with leverage, according to money manager Shanghai Silver Leaf Investment Co.
Chinese lenders, the nation's biggest bond investors, often rely on such arrangements to circumvent risk-control rules. Regulators must walk a fine line in reining in investments made on borrowed money amid a broader rout in Chinese debt, after local note failures jumped four-fold this year. That's heightened concern that any overreach could lead to panic selling, after steps to trim leverage in equities in 2015 contributed to a $5 trillion stock drop.
"The yield gap between top-rated and lower-rated bonds may widen in the coming two quarters," said Shanghai Silver Leaf's Shanghai-based chief strategist Chen Qi, who had previously been head of China fixed income research at UBS Group AG. "Those weak companies or industries will have more difficulty in financing."
Strengthening Controls
The outstanding value of wealth management products managed by third-parties was 3.46 trillion yuan ($498 billion) as of Sept. 30, accounting for 13 percent of all such investments, according to research firm PY Standard. About 50 percent of agricultural banks' WMPs were managed by third parties.
Chen at Silver Leaf, which oversees $2 billion of assets, said local regulators may strengthen controls on rural banks' WMPs managed by third-party asset managers in the coming two quarters.
At least 28 onshore bonds have defaulted this year, compared with seven in 2015. Bosera Asset Management estimated the number of note nonpayments may continue to rise substantially next year.
"The increasing emphasis on controlling credit risks, coupled with the slower growth in WMPs managed by third-parties, will have a big impact on lower-rated bonds," said Wang Shen, a Shenzhen-based fund manager at Bosera. "The yield premium on lower-rated bonds isn't enough to protect investors from credit risks."
The central bank's leverage cut has led to bond market turmoil this month. The yield premium on seven-year AA- rated corporate bonds over government notes widened about 49 basis points to 345 basis points, the fastest monthly increase since September 2014. At least 102.8 billion yuan of bond sales have been canceled or postponed in December, compared with 29.7 billion yuan for all of November, according to data compiled by Bloomberg.
"A lot of wealth-management products managed by third parties will mature in the first quarter," said Chen. "There is uncertainty if they can roll over."
— With assistance by Judy Chen
(
Adds fund manager's quotes in eighth paragraph.
)
Before it's here, it's on the Bloomberg Terminal.
LEARN MORE