FBI's Request for Clinton E-Mails Is Released by U.S. Judge
by
Lawyer who sued to see warrant doubts probable-cause finding

U.S. magistrate approved search of Dell laptop computer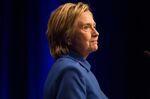 A federal judge released the FBI's warrant and application that enabled the agency to search for e-mails linked to former Secretary of State Hillary Clinton on a laptop computer used by her aide Huma Abedin and Abedin's estranged husband, Anthony Weiner.
The redacted version of the document, unsealed by U.S. District Judge P. Kevin Castel, doesn't shed new light on the Federal Bureau of Investigation's decision to seek the warrant nine days before the presidential election. The redactions shield the identity of a supervisory FBI agent and two other individuals, who appear to be Abedin and Weiner, and black out several paragraphs.
"I see nothing at all in the search-warrant application that would give rise to
probable cause," attorney Randol Schoenberg, who sued on Dec. 12 for the release, said in an e-mail after reviewing the documents. A judge is required to find probable cause that a crime may have been committed before issuing a warrant. 
"I am appalled," he added.
Clinton lawyer David Kendall said in a statement that the FBI failed to provide any new evidence to justify the warrant, relying instead on the same evidence it used in determining in July that no charges were warranted against his client.
Kelly Langmesser, a spokeswoman for the FBI in New York, and Karen Dunn, a lawyer for Abedin, declined to comment.
Classified Information
U.S. Magistrate Judge Kevin Nathaniel Fox in Manhattan authorized the warrant Oct. 30, and it was executed at 1:57 p.m. that day. The warrant allowed agents to search an electronic copy that had been made of a Dell Inspiron 15 7000 Series laptop computer.
"The Subject Laptop was never authorized for the storage or transmission of classified or national-defense information," the FBI agent said in the warrant application.
Schoenberg said he sought the documents because he couldn't figure out how a judge was able to find probable cause that a crime was committed and that the laptop contained evidence of the crime, given that the FBI had already decided not to recommend criminal charges.
FBI Director James Comey told Congress in an Oct. 28 letter that the agency has discovered additional e-mails related to Clinton's use of a private e-mail server while serving as Secretary of State that warranted additional scrutiny. The FBI had announced in July that the probe was closed. The e-mails were discovered during an FBI investigation of Weiner, a former Congressman, who allegedly sent lewd messages to a then 15-year-old girl.
Kendall said the papers highlight "the extraordinary impropriety" of Comey's Oct. 28 letter, which came two days before the warrant application and "produced devastating but predictable damage politically."
Comey announced Nov. 6, two days before the presidential election, that the FBI hadn't found anything incriminating in the e-mails. In a speech to donors last week, Clinton said Comey's decision to disclose a fresh investigation less than two weeks before the election helped cause her defeat, according to a recording of the event obtained by the New York Times.
The case is In re Search Warrant, 16-mc-00464, U.S. District Court, Southern District of New York (Manhattan).
Before it's here, it's on the Bloomberg Terminal.
LEARN MORE