Jefferies Profit Quadruples as Fixed Income, Equities Climb
by
Revenue from trading stocks and bonds more than doubles

Posts annual profit after first quarter's $166 million loss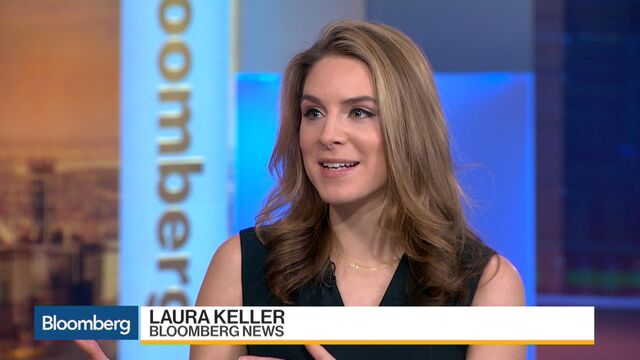 Jefferies Group, the investment bank whose trading results often foreshadow performance at bigger Wall Street firms, said fourth-quarter profit quadrupled as revenue from trading stocks and bonds more than doubled.
Net income jumped to $87.1 million in the three months ended Nov. 30, the New York-based company said Tuesday in a statement. Trading revenue climbed to $325.4 million as fixed income and equities surged from a year earlier, according to Jefferies, which is owned by Leucadia National Corp.

"Our strong finish to the year, combined with the continued positive momentum in all of our businesses, positions us well for 2017," Chief Executive Officer Richard Handler and Brian Friedman, chairman of the executive committee, said in the statement.
Investors watch the company's trading results to gauge how business is faring at bigger investment banks, which typically finish their quarters a month later. While Jefferies's performance reinforces what executives at Bank of America Corp. and JPMorgan Chase & Co. have said about their fourth-quarter trading gains so far, Morgan Stanley's president said last week that some banks are exhibiting "over-exuberance" about a lasting revenue rebound. Trading at the world's biggest banks tumbled in the first quarter, and most firms posted declines in the last quarter of 2015.
Jefferies averted a net loss for the year, even after being deluged at the start with a first-quarter loss of $166 million that caused Handler to say he was "humbled" and vowed to do better. Profit for the year was $15.4 million. The company has been shaking up management in almost all its major businesses -- bond and stock trading, investment banking and leveraged finance.
Orlan's Group
The fixed-income business, led by Fred Orlan, generated $149.4 million in revenue, plowing over the $9.44 million reported in last year's fourth quarter, when the firm's leveraged-finance originations were declining and it was still recovering from a loss of at least $90 million on its distressed-debt trading desk.
Bond trading for the year more than doubled to $640 million as the firm booked year-over-year gains for the third time in 2016. Jefferies hasn't posted that many positive quarters for the business since at least 2010. Overall annual fixed-income revenue was still the second-worst since the financial crisis.
Revenue from stock trading, overseen by Peter Forlenza, swelled 43 percent to $176 million. The gain snapped Jefferies's losing streak in its equities operations, where the firm posted four straight quarters of year-over-year declines.

Fees generated from the investment bank, run by Ben Lorello, rose 11 percent to $415.1 million from a year earlier as revenue from helping issuers raise new debt nearly doubled and business from advising clients on deals increased. Executives said in a Dec. 1 memo that some key business areas, such as initial public offerings and leveraged-finance deals, "were quieter than normal even after the first quarter."
Expenses linked to compensation rose 50 percent to $427.5 million from last year's fourth quarter. The investment bank increased compensation spending for the year by 7 percent -- reversing a cut in 2015 -- even as it eliminated 228 employees. Non-compensation expenses during the quarter fell by less than 1 percent and declined by 8.7 percent for the year.
Jefferies executives said in this month's memo that efforts to shrink or eliminate businesses that had "challenges or did not have the long-term potential to justify the investment by our shareholders" aren't finished yet.
Shares of Leucadia, Jefferies's parent company, rose 1.2 percent to $23.66 at 11:08 a.m. in New York. The stock has gained 36 percent this year, edging out the 22 percent increase for the S&P 500 Financials Index.
Jefferies's $600 million of 5.125 percent notes due 2023 last traded in size at 103.69 cents on Dec. 2, according to Trace, the bond-price reporting system of the Financial Industry Regulatory Authority. The notes yield 4.42 percent.
Before it's here, it's on the Bloomberg Terminal.
LEARN MORE