French Banks Said to Sue ECB at EU Court Over Capital Levels
by
Bank suits said to concern ECB's calulation of leverage ratio

Lawsuits were filed at EU's Luxembourg courts in October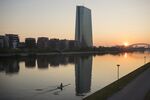 BNP Paribas SA, Credit Agricole SA and several other French banks sued the European Central Bank in a bid to change the way capital levels are calculated, according to people familiar with the case.
The banks are seeking to exclude some regulated tax-free savings accounts from the calculation, according to the people, who asked not to be identified because the suits hadn't been announced. BNP, Crédit Agricole and Société Générale SA are among six French banks that filed suits at the European tribunals in Luxembourg in October, according to court records.
The leverage ratio, which the European Union has set at 3 percent, treats a euro invested in a high-yield bond as having the same risk of loss as a euro invested in a German government bond. The risk-blind measure is designed to complement and backstop the risk-weighted approach that banks typically use and which regulators have said banks potentially may game.
"Capital demands have piled up over recent years and it's understandable that French banks would defend their interests in a more belligerent way," said Karim Bertoni, who helps manage 6.9 billion Swiss francs ($6.7 billion) at Bellevue Asset Management in Switzerland. "It's a rational attitude, because their capital and leverage levels are already above requirements."
The French banks are contesting the way the ECB calculates their leverage ratio, a key piece of post-crisis banking regulation. The banks are asking the ECB to exclude almost 240 billion euros ($250 billion) of tax-free deposits managed by state-owned Caisse des Depots et Consignations to finance government projects such as social housing.
La Banque Postale, the banking unit of France's postal office, is challenging an ECB decision from August. The Paris-based lender opposes the central bank's arguments over its leverage ratio, the alleged default risks related to state-owned Caisse des Depots, and the operational risks of sending funds for centralization at the Caisse des Depots, according to an Oct. 18 filing.
For Credit Agricole, the centralization of funds to the Caisse des Depots represented about 15 basis points of leverage ratio at the start of the year, the bank said in March. Cooperative lenders Groupe BPCE and Credit Mutuel are also among the banks filing against the ECB.
Officials at the French banks and the ECB declined to comment. Reuters reported the lawsuits earlier Tuesday.
Before it's here, it's on the Bloomberg Terminal.
LEARN MORE