EU Commissioner Moscovici Says EU Must Be Firm With Putin
By
'We need to build a relationship of firmness and cooperation'

Syria, allies are responsible for Aleppo, Moscovici says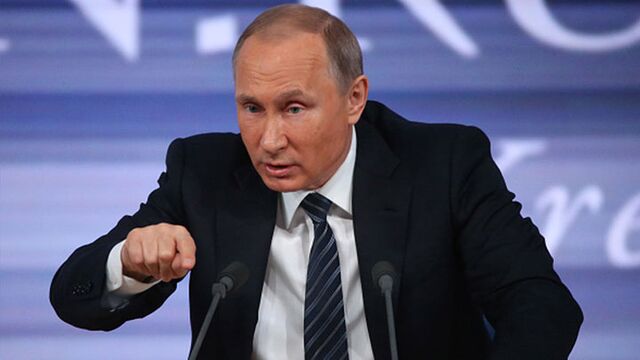 Russia is a partner "that we cannot ignore" but is also partly responsible for the Syrian tragedy, European Union Economic and Monetary Commissioner Pierre Moscovici said on RMC Radio.
"We need to build a relationship of firmness and cooperation with Mr Putin," he said.
Speaking after a Russian ambassador was shot dead in the Turkish capital on Monday in an assassination apparently linked to Syria's civil war, Moscovici said Western countries must negotiate with all parties to the conflict including the Syrian regime. He added that for the EU, the Syrian government isn't part of the solution.
"The Syrian regime is responsible for the unbearable images of Aleppo," he said. Syrian President Bashar al-Assad's forces and allied militias this month vanquished rebels in the city.
Moscovici called for the evacuation of East Aleppo. He added that economic sanctions against Russia "weren't the first reflex" and that there was a need for political measures. The EU implemented economic sanctions on Russia after the country annexed the Ukrainian region of Crimea in 2014.
EU borders
The EU's external borders should be strengthened, Moscovici said, commenting after a truck rammed into crowds at a Berlin Christmas market on Monday, killing and injuring visitors as they celebrated the festive season. The German government said the attack was probably a deliberate assault.
By contrast, Moscovici called "useless" and costly the re-establishment of national borders within the Union. The commissioner said increased controls on cash movements could help track terrorists. He defended the implementation of the EU's Passenger name record, a database of passengers' itineraries and identities.
'Good person'
Separately, Moscovici said Christine Lagarde, who was convicted of negligence by a Paris court, should remain at the helm of the International Monetary Fund. He called her "honest" and a "good person," while saying that the ruling was "not useless."
Lagarde was convicted Monday over her handling of a multimillion-euro dispute during her time as France's finance minister nearly a decade ago. The International Monetary Fund reiterated its backing for its managing director, who said she wouldn't appeal and would continue running the IMF. The 60-year-old IMF chief won't face a fine or prison term.
Before it's here, it's on the Bloomberg Terminal.
LEARN MORE