markets
Deutsche Bank: This Chart Underlines the Massive Move From Bonds to Stocks Since the Election
How much money will end up flowing into equities?
By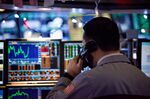 Trillions of dollars have flown out of the bond market since President-elect Donald Trump's surprise win in November, and Deutsche Bank AG says all of it's gone to one place: stocks.
"Since the U.S. election in November the total market cap of world stock markets is up by $3 trillion while the global market cap of world bond markets is down by $3 trillion," writes the firm's Chief International Economist Torsten Sløk. "While some of this is driven by the appreciation of the dollar, this great rotation roughly suggests that all the money that was taken out of bond markets since the U.S. Presidential election was put to work in the stock market."
Here's a chart from the note illustrating Sløk's point:

With Wall Street still weighing how much money remains on the sidelines of the post 2009 bull market, Fundstrat Global Advisors' Managing Director Tom Lee told Bloomberg TV there's still dry powder poised to flow into equities. 
"Households saved $7 trillion in the last decade, and they took $2 trillion out of stocks," Lee told Bloomberg TV in an interview. "So not only did they save money, they liquidated equities," he said, flagging up the prospect of "monstrous inflows." 
The $3 trillion that's been invested so far has given U.S. markets a turbo boost. The S&P 500 Index's gains of 5.8 percent since the election, for instance, account for most of this year's gain of 10.7 percent. 

The average 12-month S&P 500 target is 2,356, according to analyst expectations compiled by Bloomberg. The highest comes from RBC Capital Markets LLC at 2,500, while the lowest — from Stifel Nicolaus & Co Inc. and UBS Group AG — stands at 2,300. 
Before it's here, it's on the Bloomberg Terminal.
LEARN MORE