Violent Protests Erupt in Congo as UN Investigates 20 Deaths
By and
Opposition leader Tshisekedi says president's rule 'illegal'

French minister says Congo must not fall into 'civil war'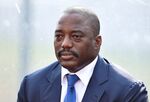 The United Nations is investigating the reported deaths of 20 civilians in the Democratic Republic of Congo, as protests against President Joseph Kabila's continuing rule turned violent.
"We are verifying reports of some 20 civilians killed and almost 150 arbitrarily arrested," Jose Maria Aranaz, the UN's human rights director in Congo, said Tuesday by e-mail. "The verification is being delayed by obstruction in access." France urged the authorities to respect human rights and said the European Union may have to reassess its ties with the country.
Security forces killed at least three people Tuesday in the capital, Kinshasa, as demonstrations marked the first day that Kabila remained in charge after his official two-term limit ended, Human Rights Watch said on its website. The largest protests were in Kinshasa and Lubumbashi in the south, according to the New York-based group.
"Security forces have responded in many areas by firing live bullets and teargas," said Human Rights Watch, which has a network of observers around Congo. "We've received reports of many people killed and wounded on Tuesday morning by the security forces, which we're still working to confirm. And the reports of arrests continue." Congo "has become a powder keg," it said.
Delaying Tactics
Kabila is facing one of his biggest tests as his opponents accuse him of intentionally delaying elections to allow him to stay in charge of Africa's biggest producer of copper, cobalt and tin. The president says the decision to put the vote back until April 2018 was out of his hands. While Monday marked the last day of his second term, as stipulated by the constitution, the constitutional court has ruled he should stay in office until elections are held.
Read more on Kabila's business interests
Congolese Information Minister Lambert Mende didn't immediately respond to three calls to his mobile phone.
France urged the Congolese authorities and security forces to respect human rights and said Kabila shouldn't run again in future presidential elections.
"We must be clear: if nothing happens, the EU will have to reconsider the level of relations it has with this country," French Foreign Minister Jean-Marc Ayrault told reporters in Paris. "We can't go on like nothing is happening. We really want that this country doesn't fall into chaos, that it can be spared a civil war."
'Peaceful Resistance'
Earlier in a message posted on YouTube, veteran opposition leader Etienne Tshisekedi on Tuesday called for peaceful resistance to what he described as President Joseph Kabila's "illegal and illegitimate" rule. Tshisekedi's remarks came as Kabila named a new cabinet to run Congo and his security forces blocked off parts of the capital.
The Congolese people should "peacefully resist the coup d'etat that has been completed" and other nations shouldn't deal with Kabila as head of state, said Tshisekedi, the leader of the Union for Democracy and Social Progress party.
State television announced the new cabinet late Monday, minutes before the end of Kabila's second official term. The heads of key ministries, including mines, finance, hydrocarbons, economy, defense and communications, remained the same. Kabila appointed a new prime minister last month as part of an agreement with small opposition parties to form a transitional administration.

— With assistance by Helene Fouquet
Before it's here, it's on the Bloomberg Terminal.
LEARN MORE