Trudeau Urged to Think 'National Dream' on Infrastructure
By
Economic council member Courtis calls for spending boost

Canada needs to invest more as Trump, Asia make similar moves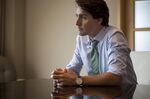 Canadian Prime Minister Justin Trudeau has the opportunity to reshape the economy for generations with a bold plan to invest in airports, railways and other infrastructure, a member of the country's economic advisory council said.
"If the prime minister really takes it in his hands and runs with it, he will change the future of this country; it's of that dimension," Kenneth Courtis said Tuesday. "Business as usual won't work."
Courtis, a former Goldman Sachs Group Inc. vice chairman and a member of Canada's Advisory Council on Economic Growth said the government should think in terms of large scale projects -- such as the "National Dream" railway built more than a century ago or the construction of the St. Lawrence Seaway -- as it plans infrastructure investments.
"We have to think in that direction," Courtis said in an interview with Bloomberg TV Canada from Toronto. "In we operate in that big dimension, that really changes the scope and direction and dynamic over the next few years."
Trudeau announced the creation of an infrastructure bank last month, with a mandate to invest C$35 billion ($26 billion). Finance Minister Bill Morneau also unveiled C$81.2 billion in new infrastructure spending over the next 12 years.
Scale Plays
Courtis, a Canadian who now spends half his time in Asia as chairman of financial services firm Starfort Holdings, said Canada should think bigger by investing about C$20 billion a year, with additional funds coming from provinces, municipalities and from borrowing. He says the additional investment may also develop private sector companies that can compete for projects in the U.S. and Asia where spending is also ramping up.
"We could create companies that would be of scale that could play in these big market places like Asia," which has plans to spend as much as $4 trillion over the next 10 to 15 years, he said. "We have to think big or go home and the moment to do this is now."
The advisory council, led by McKinsey & Co. Managing Director Dominic Barton, recommended the creation of an infrastructure bank in October, and Trudeau campaigned on creating one in last year's election.
Morneau's plan proposes C$4 of private investment for every C$1 from government, which suggests an anticipated C$175 billion portfolio. The precise figure will depend on market interest and individual deals. Trudeau, Morneau and cabinet members including Infrastructure Minister Amarjeet Sohi met with bank and pension fund executives at an infrastructure round-table discussion in Toronto last month.
Courtis, who has met recently with members of President-elect Donald Trump's transition team in New York, said the U.S. will also make infrastructure a priority. He expects Trump to announce a $1 trillion program in his first 200 days in office.
"Trump is a real estate guy," Courtis said. "He knows about pouring concrete and he knows about building. This is something near and dear to his heart."
Before it's here, it's on the Bloomberg Terminal.
LEARN MORE