Bulgaria's Ruling Gerb Party, Reformers Fail to Agree on Cabinet
By
Gerb reiterates call for early elections, Tsvetanov says

Reformers' Bloc will return mandate to form cabinet Dec. 21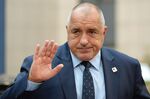 Bulgaria's ruling Gerb party and the Reformers' Bloc failed to agree on a new cabinet, reiterating their demand for a snap vote after Prime Minister Boyko Borissov resigned last month.
The Refomers, Gerb's junior coalition partner, will return the mandate to form a government to President Rosen Plevneliev on Dec. 21, after failing to win support from Gerb and other parties, Naiden Zelengorski, head of the Reformers parliamentary group, told reporters in Sofia Tuesday. Plevneliev offered the bloc to form a cabinet a week ago after Borissov's Gerb and the opposition Socialists refused to compose a government and advocated for early elections.
"We can't reach a general agreement on policies, so we can't continue ruling with this majority," Tsvetanov said at the same briefing. "This parliament is incapable of producing a new cabinet and we'll have to move forward to early elections."
Under the constitution, Plevneliev, who wanted to avoid a snap vote that he fears will increase instability in the Balkan country, will have to appoint an interim cabinet. Borissov stepped down after his party's candidate lost the Nov. 13 presidential election to former Air Force chief Rumen Radev, who ran on the ticket of the opposition Bulgarian Socialist Party. Radev, who'll take office in January, will have the authority to dissolve parliament and call early elections, the third snap vote in the European Union's poorest country in five years.
Before it's here, it's on the Bloomberg Terminal.
LEARN MORE