Wellington City Orders Further Building Inspections After Quake
By
Hotels, office towers, apartments face engineering scrutiny

Council doesn't expect to find more unsafe buildings in city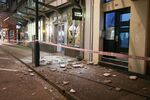 Wellington City Council has ordered the owners of 70 inner city buildings to undertake further engineering inspections in the next eight weeks following earthquakes that rocked New Zealand's capital last month.
The buildings include office towers, hotels and apartment blocks that reopened soon after a magnitude 7.8 earthquake that struck the east coast of the South Island on Nov. 14. The fresh inspections are a precautionary measure and follow expert advice that some buildings may not have performed as well as expected, the council said in a statement.
The council is targeting reinforced-concrete buildings of up to 15 levels built since the 1980s, and sitting on soft soil or ground that might amplify shaking, it said. These sorts of properties were identified in a government-backed review of buildings badly affected by the Nov. 14 event, it said. Owners have until Feb. 10 to complete the inspections.
"The council is taking this approach to be prudent and in the interests of public safety given the information now to hand," it said. "We have no evidence of any requirement to evacuate any building that has not already been evacuated and we do not expect to find any unsafe buildings we are not already aware of."
The Nov. 14 earthquake, centered in the north of New Zealand's South Island, rocked buildings in Wellington about 300 kilometers (185 miles) away and has been followed by more than 30 aftershocks. The central bank this month estimated the repair bill may be as much as NZ$8 billion ($6 billion), including the cost of restoring the state highway and rail line that runs through the region and was devastated by landslides.
In Wellington, as many as seven buildings currently face demolition. Several other properties including those occupied by Statistics New Zealand, the Ministry of Defence and the Inland Revenue Department have been closed pending further repairs.
Before it's here, it's on the Bloomberg Terminal.
LEARN MORE