British Business Worries About Where the Skills Will Come From
By
More executives negative on the outlook for the labor market

Companies trying to hire now to "lock in" skilled workers
U.K. bosses plan to keep hiring while they still can, but their optimism about the labor market is in retreat.
About 40 percent of employers surveyed between August and October expect to grow their workforce next year, according to the Confederation of British Industry, with more growth in permanent jobs than temporary ones and strongest demand in the science and technology sectors.
But with myriad uncertainties from Brexit, a rising minimum wage, and an apprenticeship levy close to the horizon, business's faith in the longer term is under pressure: 50 percent of respondents to the CBI/Pertemps Network Group Employment Trends Survey said the U.K. will become a less attractive job market over the next five years, with just 29 percent saying the opposite.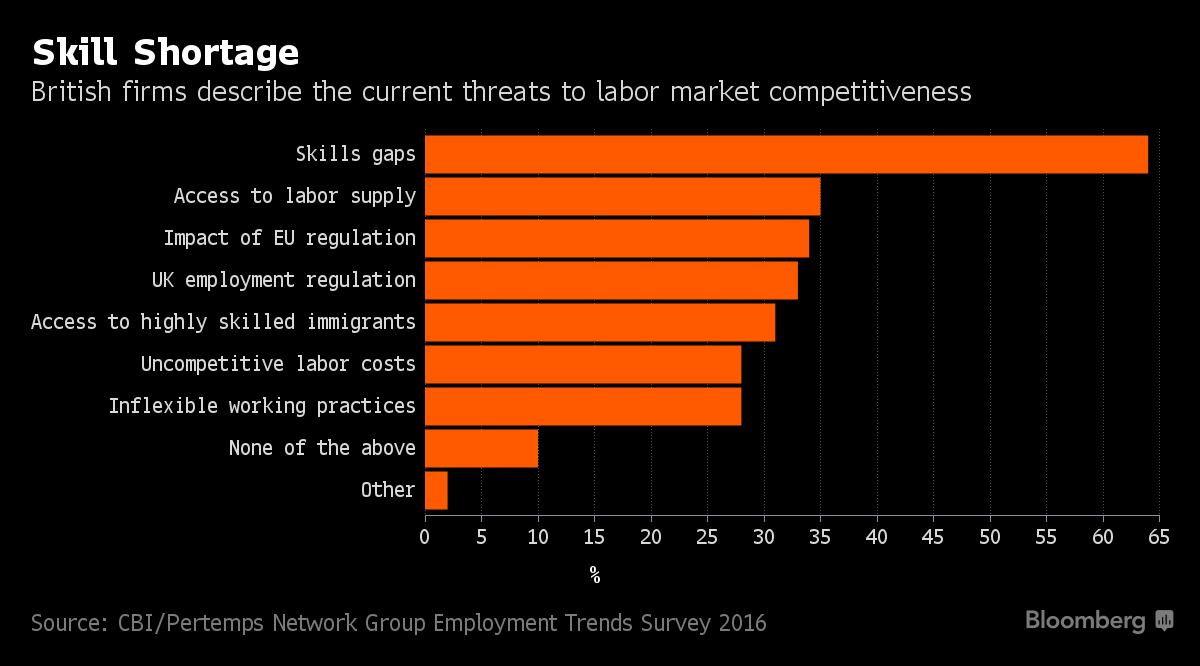 While the U.K. voted almost six months ago to end its membership of the European Union, it still hasn't begun the formal exit process, and firms are getting ready for any change that will bring to the business environment.
"We've talked to people about this," said Neil Carberry, the CBI's director of people and skills. There's "a sense of people trying to lock down workers whoever they are -- lock down key skills."
A lack of domestic training means U.K. businesses are anxious about staying competitive. The biggest concerns are retaining access to highly skilled migrants and having sufficient labor to plug shortages. The proportion of directors worried they would be less competitive by 2020 due to lack of skilled staff nearly doubled from last year's survey, to 58 percent.
The government is right to implement an immigration policy that "gives control to respond to public concerns," CBI's Deputy Director-General Josh Hardie told reporters. But it must also be a "demand-led system" that reacts to economic requirements and helps fill skills gaps.
Squeezed margins
Even without Brexit, businesses say they will have less breathing room between inflation, a pending apprenticeship levy, and another hike in the minimum wage -- which the CBI called an "unprecedented intervention in the labor market."
Two in five respondents said they absorbed the cost of the previous minimum wage rise in April, but more than a quarter passed costs onto customers. Eighteen percent looked into further automation.
Even more -- 28 percent -- expect to pass on rising costs to consumers over the coming four years, and nearly a fifth said they will restructure or cut staff to weather the pressure.