Sports Risks Global Audience Revolt, Says Doping Investigator
By
Richard McLaren says scandals may scare commercial partners

Russia accused of corrupting Olympics on 'unprecedented' level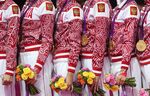 Widespread doping in Russian athletics will have consequences for sports around the world, said Richard McLaren, the author of a recent international investigation. In particular, global sponsors and fans will continue to abandon sports tainted by doping, unable to trust that the competition they see is legitimate.
The second part of the McLaren report released this month revealed more than 1,000 Russian athletes in at least 30 sports had benefited from using banned substances, the final downbeat in a year that saw regular reports of doping and scandal. The international governing body of track and field has yet to replace top sponsors Adidas AG and Nestle SA, which walked away following allegations of corruption at the organization. Superstar Maria Sharapova was banned from tennis following reports she had tested positive for meldonium.
Meanwhile, the International Olympic Committee has been reanalyzing samples from the Beijing and London games, which has so far revealed almost 100 positives tests, including from nearly 40 medal winners. In an interview, McLaren said he expects to see the same figures from Rio by the time the next games begin in Tokyo in 2020.
Mclaren's report revealed the Russian Olympic team corrupted the London 2012 games on an "unprecedented scale." The Toronto-based lawyer, who has also investigated suspected doping in baseball, said the case is the biggest in the history of sport.
"As these kinds of situations become more public, people begin to realize what's been going on and that may lead to less people watching sports," said McLaren. "That changes broadcast numbers and therefore revenues. So sport needs to do something here and they need to do it as quickly as possible."
Track in particular is struggling to build credibility with a younger audience, said Patrick Nally, a former marketing adviser to the International Olympic Committee. The commercial appeal in the U.S. has always been limited, and in recent years, European appetite has also dried up. "It's a dying sport from commercial and television point of view," he said.
Sponsors haven't abandoned the Olympics, which benefit from a variety of sports, the patriotism of fans, and the scarcity that comes with a biennial event. Still, NBC's television audience for the Rio 2016 Olympics was down, dropping about 25 percent compared with London 2012. No single factor suppressed the ratings, but persistent rumors don't necessarily help.
"Sport needs to do something here and they need to do it as quickly as possible," McLaren said.
For now, it seems there's enough goodwill built into the Olympics that sponsors aren't likely to flee without prodding from fans, said David D'Alessandro, the former chief executive officer of John Hancock and vocal critic of the IOC.
"The public's outcry never seems to cross over to a point where they're no longer buying a sponsor's product," he said in an interview earlier this year. "When that happens that's when the outcry starts."