Platinum Fund's Outsized Returns 'Tarnished' After Charges
By and
Co-founder Mark Nordlicht is indicted for $1 billion fraud

Top prosecutor calls hedge fund a 'piece of cheap metal'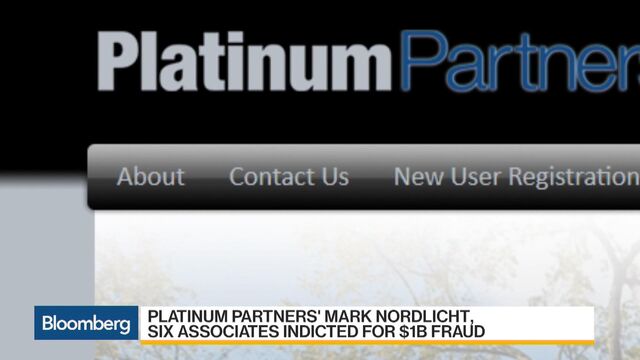 For more than a decade, Platinum Partners reported some of the biggest gains in the hedge-fund industry, even as many of its investments seemed to go horribly wrong.

 
Now, federal prosecutors in Brooklyn say the $1.7 billion hedge fund's industry-beating returns were based on lies. On Monday, co-founder Mark Nordlicht and six associates were charged with fraud. They're accused of inflating the book value of unprofitable oil projects to make the fund's performance look better in what the government called a $1 billion fraud and a "Ponzi-esque" scheme.
"In the end, Platinum held no more value than a tarnished piece of cheap metal," Brooklyn U.S. Attorney Robert Capers said at a news conference. "Nordlicht and his cohorts engaged in one of the largest and most brazen investment frauds perpetrated on the investing public, earning Platinum more than $100 million in fees during the charged conspiracy."
Nordlicht, 48, a former commodities trader, founded New York-based Platinum in 2003, with seed money from Murray Huberfeld, a penny-stock trader from Brooklyn whose family owned kosher restaurants. The fund reported 17 percent average gains through 2015, with no down years, even as it invested in two Ponzi schemes and several other ventures that ended in sanctions for the other people involved. Nordlicht pleaded not guilty on Monday.
Office Raid
It all started to unravel in June when Huberfeld was arrested in a separate case for allegedly bribing the head of New York City's corrections officers' union to put its retirees' savings into Platinum. The charges in that case depicted Platinum desperately trying to get money from new investors to pay off old ones. Federal investigators raided Platinum's offices two weeks later, looking more broadly at whether the fund was a fraud.
The charges on Monday relate to two oil ventures that Platinum claimed were its most valuable holdings, Golden Gate Oil LLC and Black Elk Energy. Platinum claimed they were worth $292 million as of the end of 2014, about 37 percent of its main fund's assets, according to prosecutors.
In reality, Golden Gate was a flop that never produced much oil, people familiar with the matter said in August. Black Elk Energy is now in bankruptcy and facing criminal charges in connection with an explosion that killed three workers. 
Based in large part on the inflated value of those assets, Platinum reported profits of about 10.8 percent in 2014 and 8.8 percent in 2015, prosecutors said. That allowed Platinum's management to extract more than $91 million in incentive fees from 2012 to 2014, according to prosecutors.
'Positive Outlook'
Throughout 2014, Platinum continued to inform investors and prospective investors that the fund had a "positive outlook," according to the U.S.
"Platinum Partners purported to be a standard bearer in the hedge-fund industry, reporting annual average returns of more than 17 percent since inception in 2003," Capers said. "In reality, their returns were the result of the overvaluation of their largest assets, which eventually led to Nordlicht and his co-conspirators operating Platinum like a Ponzi scheme." 
Montieth Illingworth, a spokesman for Platinum, declined to comment.
Prosecutors also charged David Levy, 41, co-chief investment officer, and Uri Landesman, 55, former president of Platinum's signature fund, with securities fraud, conspiracy and other crimes, according to the eight-count indictment. The others charged were Joseph SanFilippo, chief financial officer, Joseph Mann, marketing employee, Daniel Small, managing director, and Jeffrey Shulse, Black Elk's chief financial officer.

Levy, Landesman SanFilippo, Mann and Small all pleaded not guilty Monday. Shulse is scheduled to appear in federal court in Texas later Monday.

Andrew Levander, a lawyer for Nordlicht, and lawyers for Landesman and Shulse, didn't immediately return voice-mail messages seeking comment about the arrests. Laywers for SanFilippo and Mann couldn't immediately be determined.
"We look forward to reviewing the evidence and defending ourselves," said Michael Sommer, a lawyer for Levy. Seth Levine, a lawyer for Small, declined to comment on the charges.
'Hail Mary'
In addition to the criminal charges, the Securities and Exchange Commission filed a parallel civil case against the men on Monday, with similar allegations. Platinum used misrepresentations to attract new investors while the fund was struggling, during what internal documents described as "Hail Mary time," according to the SEC.
Cayman Island liquidators for Platinum's flagship fund filed a Chapter 15 bankruptcy petition on Oct. 18 and asked a judge to prevent anyone from disposing of the hedge fund's assets without their permission.
At one point in December 2015, Nordlicht considered fleeing the country, according to federal prosecutors.
"(My wife) is literally making me get on Israel flight if we don't connect and agree what we are doing," Nordlicht wrote in an e-mail to a colleague.
The case is U.S. v Nordlicht, 16-cr-640, U.S. District Court, Eastern District of New York (Brooklyn).