markets
Paschi Starts Share Offer as Italy Prepares Possible Rescue Plan
By , , and
State plans to participate in share sale which may raise stake

Government said ready to step in if capital increase fails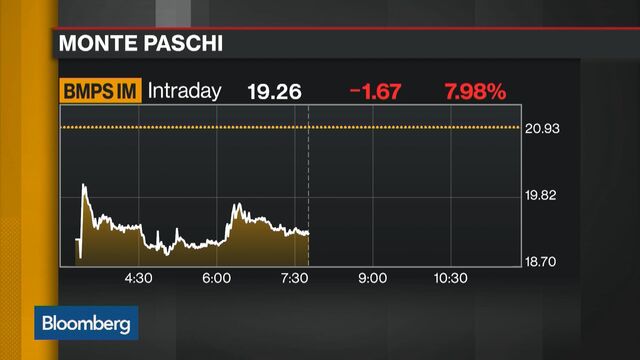 Banca Monte dei Paschi di Siena SpA is attempting to sell shares on the market while the government prepares a plan to inject as much as 15 billion euros ($15.7 billion) into Italian banks should the fundraising fail, according to a person with knowledge of the matter.
Italy's Treasury plans to participate in the share sale, which may increase its 4 percent holding, the person said, asking not be identified because the plan isn't public yet. The government is getting ready to approve a broader bank-rescue plan if Monte Paschi's 5 billion-euro recapitalization plan doesn't succeed, the person said. Monte Paschi is offering new shares to investors this week and it extended a debt-for-equity swap.
"Taking into consideration the risk profile and the limited period of time available to subscribe to the offer, we believe that the outcome of the deal will mainly depend on institutional investors' decisions, starting with sovereign funds," Marco Sallustio a Milan-based analyst at ICBPI, wrote in a report Monday.
Under European banking rules, losses must be imposed on bondholders if taxpayer money is used to aid a lender. The government has discussed a so-called precautionary recapitalization of Monte Paschi that would limit bondholder losses, according to people with knowledge of the matter.
Italian newspaper Il Sole 24 reported on the government rescue plan on Saturday.
Race to Raise
Monte Paschi Chief Executive Officer Marco Morelli, who took over in September, is racing to find backers in his effort to clean up the bank's balance sheet. The failure of the recapitalization would be a blow to Italy's sputtering efforts to revive a banking industry that's burdened with about 360 billion euros in troubled loans.
In the share sale, 35 percent will be offered to individual investors and 65 percent to institutional investors, including potential anchor investors. Existing shareholders will be offered a chance to buy 30 percent of the offering reserved for retail investors before the sale is open to others. The offer ends on Wednesday for retail investors and Thursday for institutions.
The share sale and debt-for-equity swap are two of the three main interlocking pieces of the bank's capital-raising plan. The bank also aims to find so-called anchor investors to buy a large chunk of the shares.
Monte Paschi, facing a Dec. 31 deadline to complete the fundraising, also will promote an exchange on 1 billion euros of hybrid securities issued in 2008 known as FRESH at 23.2 percent of face value, the lender said in a filing on its website. In the previous swap offer, bondholders have already agreed to exchange about 1.02 billion euros for shares.
Italy's Monte Paschi Playbook Avoids EU Law's Sick Bank Strategy
Should the share offering succeed, 28 billion euros of soured loans would be bundled into securities and sold to investors, removing them from Monte Paschi's balance sheet. The capital being raised would be used to cover the bank for losses it would book in selling the troubled loans. If the sale fails, the conversions of debt-to-equity would be nullified.
— With assistance by Chiara Remondini
Before it's here, it's on the Bloomberg Terminal.
LEARN MORE