Indonesia's Central Bank Revives Plan to Cut Three Zeroes From Rupiah
by and
President Joko Widodo says proposal should be a priority

Bank Indonesia foresees little impact on exchange rate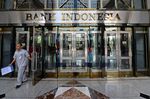 Indonesia's central bank is reviving a plan to redenominate the currency of Southeast Asia's biggest economy despite the threat of market turmoil as the U.S. steps up the pace of interest-rate increases.
"Re-denomination must be done while the economy is stable," Bank Indonesia Senior Deputy Governor Mirza Adityaswara told reporters in Jakarta on Monday. "Now, at this moment, it can be done. The exchange rate has been turbulent but it won't have too much of an impact. The main thing is that the economy must be stable."
The rupiah is one of the highest denominated notes in Asia, and Bank Indonesia has proposed cutting three zeroes from the currency to simplify payments. A similar plan mooted four years ago was abandoned amid the taper tantrum, when the Federal Reserve announced it was withdrawing stimulus, triggering a rout in emerging-market assets, including a sell-off in the rupiah.
Financial markets were rattled again in the immediate aftermath of Donald Trump's surprise victory last month in the U.S. presidential election, with the rupiah one of the hardest hit currencies, sinking to a two-month low on Nov. 9 when Trump was declared the winner. The currency has rebounded 1.3 percent against the dollar this month to reach 13,383 as of 2:30 p.m. on Monday.
"The economy and the rupiah have held up pretty well actually under the Trump tantrum," said Tim Condon, head of Asian research at ING Groep NV in Singapore. With the government having removed fuel subsidies, "there really is no good reason to see a spike in inflation and the currency as we've seen in the past."
Stable Inflation
The central bank said the introduction of new units of currency would not reduce purchasing power nor prompt currency volatility and it should have a minimal impact on prices. The bank has kept inflation under 5 percent for more than a year.
"Re-denomination is a matter of simplification," said Adityaswara.
Indonesian President Joko Widodo said at the same event that he wanted Parliament to consider the plan to re-denominate the currency next year.
Indonesia is seeking a lengthy transition period to adopt any change, with Widodo proposing seven years for the re-denomination. That may help to avoid disruption to consumers from currency adjustments, as happened recently in India and Venezuela.
"It could prove costly if we do it in an abrupt way, so we need a transition period for the banking sector and financial system," said David Sumual, chief economist at PT Bank Central Asia in Jakarta. "The precondition for this kind of policy is that the economic situation should be stable, meaning that inflation should be stable and the currency also in a stable situation."
Before it's here, it's on the Bloomberg Terminal.
LEARN MORE