IMF Board Backs Lagarde Following Conviction for Negligence
By
Managing director says she won't appeal French court ruling

Defends herself, says acted with 'focus on public interests'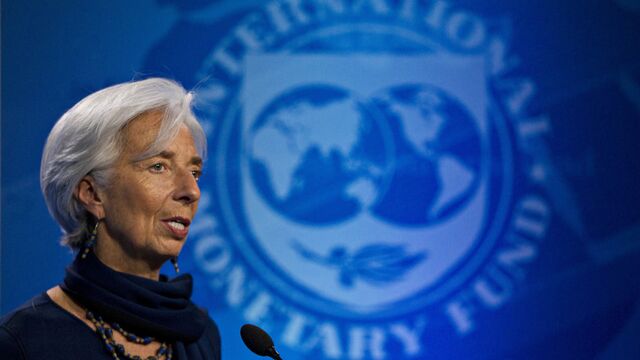 The International Monetary Fund's executive board reiterated its backing for Christine Lagarde, indicating it supports the lender's managing director despite her conviction for negligence by a French court. She said she won't appeal and will continue to run the IMF.
"The Executive Board reaffirms its full confidence in the Managing Director's ability to continue to effectively carry out her duties," according to an IMF statement sent via e-mail on Monday. "The Executive Board looks forward to continuing to work with the Managing Director to address the difficult challenges facing the global economy."
Speaking to reporters later in Washington, Lagarde said she won't appeal the court decision after years of legal wrangling and looks forward to continuing her work at the fund. "There is a point in time when one has to just stop, turn the page and move on," she said. "I am very happy to not appeal this decision and to focus all my attention, all my time, all my efforts, all my energy and enthusiasm to my mission as head of the IMF."
Lagarde was convicted of negligence earlier Monday for failing to overturn a 285-million euro ($296 million) payout to a businessman in an arbitration case while she was France's finance minister nearly a decade ago. The 60-year-old IMF chief won't face a fine or prison term, according to the judges on the Cour de Justice de la Republique, which specializes in ministerial misconduct.
Lagarde was reappointed for a second five-year term this year after no one challenged her candidacy. She is the first woman to run the Washington-based fund, which was conceived during the Second World War to help oversee the international monetary system and promote open markets.
The IMF statement was unambiguous in its praise. "The Executive Board took all relevant factors into account in its discussions, including the Managing Director's outstanding leadership of the Fund and the wide respect and trust for her leadership globally," according to the statement.
'Strong Leader'
Others jumped to Lagarde's defense on Monday as well. U.S. Treasury Secretary Jacob Lew reaffirmed his "full support" for Lagarde in a statement, calling her a "strong leader" during a critical time for the world economy. France's Finance Ministry published a statement expressing "full confidence" in the IMF chief.
"All along in my previous professional life and as head of the IMF, I have always discharged my duties in full responsibility, in conscience, in confidence, and with a clear focus on public interests," Lagarde said Monday.
In backing her, the fund's executive board avoids the task of having to select a new managing director as the U.S. transitions to a new administration under Donald Trump. One of Trump's finalists for secretary of state, John Bolton, wrote in a recent opinion piece that the world should think creatively about how to reform the IMF, and consider privatizing development lenders such as the World Bank.
According to her terms of appointment, Lagarde must strive to avoid "even the appearance of impropriety." She can be terminated at any time by the 24-member executive board, which represents the IMF's 189 member nations. Still, the board has maintained confidence in her since it was announced a year ago that she would face trial in France.
Lagarde is the third straight IMF managing director to run into legal issues. Her predecessor Dominique Strauss-Kahn resigned after a hotel maid accused him of sexual assault.
Prosecutors dropped a criminal case amid inconsistencies in her testimony, and Strauss-Kahn reached an undisclosed civil settlement with the woman. Last year, he was acquitted in France of charges of aggravated pimping in connection with a string of sex parties.
Rodrigo Rato, who preceded Strauss-Kahn at the IMF, has been accused in Spain of misusing credit cards during his time at Bankia SA. Rato has denied acting inappropriately.
— With assistance by Alister Bull
Before it's here, it's on the Bloomberg Terminal.
LEARN MORE