Danone Sales Growth to Miss Target as Spain, Activia Falter
By
Revenue increase will be slightly below 3% to 5% goal

CFO says revamp of Activia is taking longer than expected
Danone, the world's biggest yogurt maker, said sales growth will be slightly below its target for 2016 as fresh dairy shipments drop for a third year, hurt by weak demand in Spain and a slower-than-expected revamp of the Activia yogurt brand across Europe.
Revenue growth will miss the 3 percent to 5 percent goal by about 0.1 percentage point, Chief Financial Officer Cecile Cabanis said on a conference call with analysts Monday, though the company also raised its margin target for the second time this year. The stock fell as much as 3.1 percent in Paris.
Chief Executive Officer Emmanuel Faber is struggling to halt a three-year drop in shipments of fresh-dairy products and end a decline in Activia, which has annual sales of about 1.5 billion euros ($1.6 billion) in Europe. Danone has been trying to give the brand a more premium and contemporary image as Activia faces competition from cheaper rivals after a decision by European regulators that led Danone to drop health claims.
"The relaunch of Activia doesn't seem to be delivering on expectations," James Edwardes Jones, an analyst at RBC Capital Markets, wrote in a note.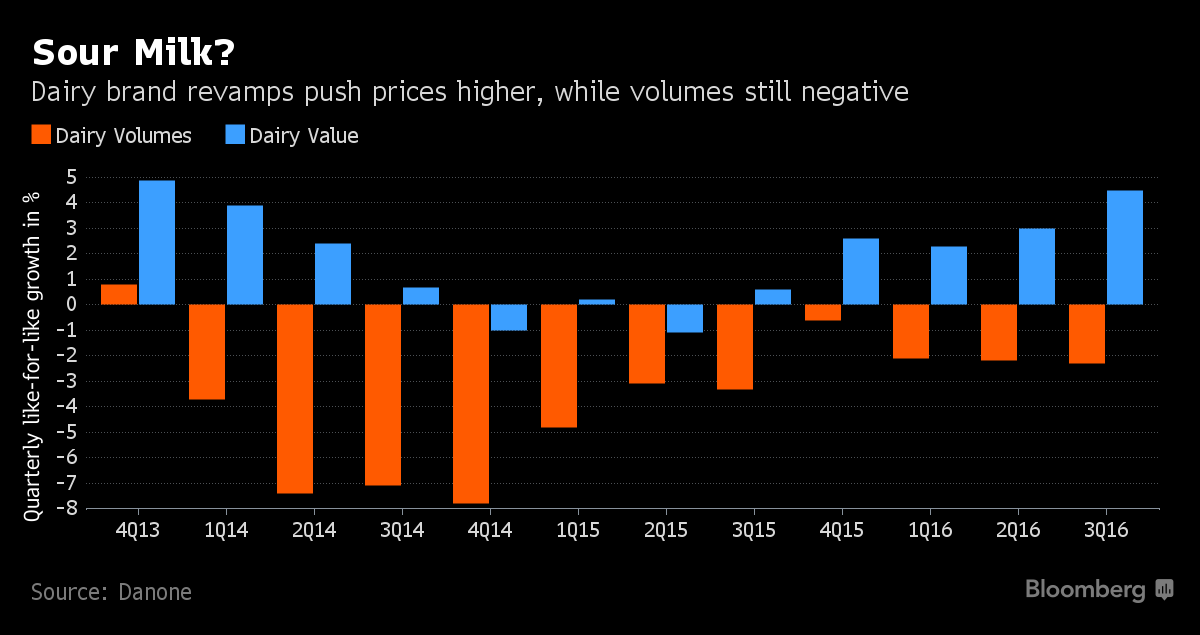 Danone's full-year margin will beat the target by as much as 0.1 percentage point, Cabanis said. The most recent profitability goal, set in June, was for like-for-like improvement in the recurring operating margin of 0.5 percentage points to 0.6 percentage points.
The company said it's been reworking local execution plans for the revamp, changing packaging in some countries.
Fresh dairy like-for-like sales growth will be about 2 percent this year, Cabanis said.
In October, the company reported the slowest third-quarter sales growth in more than a decade amid a slowdown in baby food, traditionally one of the Danone's fastest-growing businesses.