business
Mistry Steps Down From Tata Companies Amid Fight With Scion
By and
Ousted chairman plans to shift battle to larger legal platform

Six Tata Group companies asked shareholders to remove Mistry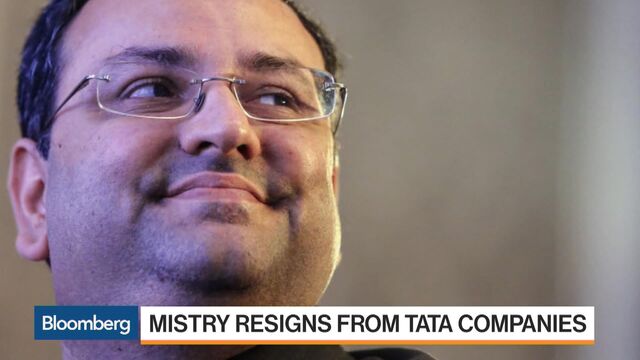 Ousted Tata Sons Ltd. Chairman Cyrus Mistry resigned as director of group companies on the eve of shareholder meetings to remove him and pledged to take the fight with the scion of the $100 billion conglomerate to a "larger platform."
Mistry stepped down as a director in Tata Steel Ltd., Tata Chemicals Ltd., Tata Global Beverages Ltd., Tata Power Co. and Indian Hotels Co., and as chairman of Tata Motors Ltd., the six companies said in stock exchange filings. Shareholders of Tata Consultancy Services Ltd. last week removed Mistry as a director.
Mistry's decision to step down is the latest twist in the battle that began with his sudden removal as head of India's biggest conglomerate. Ratan Tata, the patriarch who mentored Mistry for the chairman job in 2012 and replaced him in October, is re-asserting control at the group, which has products ranging from the luxury Jaguar Land Rover cars to table salt. After weeks of bitter public accusations and recriminations between the two, Mistry on Monday said he plans to go to an "external forum" to rule on his firing.
"Having deeply reflected on where we are in this movement for cleaning up governance and regaining lost ethical ground, I think it is time to shift gears, up the momentum, and be more incisive in securing the best interests of the Tata Group," Mistry said in the statement on Monday. "I have decided to shift this campaign to a larger platform and also one where the rule of law and equity is upheld."
To read about the shareholder vote at Tata Consultancy, click here
The statement was issued after Mistry attended a meeting of the board of group holding company Tata Sons on Monday.
Tata Steel fell 2 percent at 12:19 p.m. in Mumbai while Tata Chemicals dropped 0.7 percent and Indian Hotels slid 1.3 percent. Tata Consultancy jumped 2.1 percent and Tata Motors was 0.2 percent higher.
Earlier this month closely-held Tata Industries Ltd. voted to remove Mistry. Indian Hotels on Tuesday hosted an extraordinary general meeting that had been called to consider Mistry's position on the board. It was the first of five scheduled for this month.
At the standing-room-only Indian Hotels gathering, Managing Director Rakesh Sarna said that since Mistry's resignation had made the resolution on his removal fruitless, shareholders would be allowed to make comments. Investors in the company, which operates the Taj chain of hotels, praised Ratan Tata and the executive's supporters also shouted down any Mistry backers.
Deliberate Strategy
"Mistry's resignation is a deliberate strategy on his part, knowing fully well that the overwhelming majority of the shareholders were not in support of his actions," Tata Sons said in a statement on Monday. "Mistry has done precious little to build the goodwill of the Tata Group, built through the hard work and dedication of its employees."
Tata is also looking to oust longtime ally-turned-foe Nusli Wadia -- whose group traces its roots back to 1736 and built the ship on which the American national anthem was composed-- as an independent director on the boards of three Tata firms. Wadia, who has been on the boards of Tata Motors and Tata Chemicals for more than three decades, has sided with Mistry in the fight with Ratan Tata. Wadia is also on the board of Tata Steel.
To read about how the Tata battle is dividing corporate India, click here
The planned shareholder meetings will continue, said Shriram Subramanian, founder of InGovern Research Services, a proxy advisory firm. "One can only conjecture as to what actions are being thought of in an external larger platform. These could take the form of courts, intervention by arbitration, government."
Ratan Tata has said the 48-year-old Mistry's continued presence as director is a "serious disruptive influence" on company boards. Mistry has said he was pushing to transform the business empire into a more prudent enterprise.
There was a risk that the group may have pulled rights to use the Tata brand name and withdraw financial support for units that failed to remove Mistry as a director. Tata Sons warned Nov. 13 that boards of the conglomerate's listed companies must ensure their future is protected and pledged to do "whatever is required" to deal with the situation.
"Sanity has prevailed," said Arun Kejriwal, founder of advisory firm Kejriwal Research & Investment Services Pvt. "Now he has chosen an honorable exit for himself. The avenue of the courts remain open for him. It is for him to decide the course for action hereafter."
— With assistance by Siddharth Vikram Philip, George Smith Alexander, and Swansy Afonso
(
Updates details of company annoucements in second, eighth paragraphs.
)
Before it's here, it's on the Bloomberg Terminal.
LEARN MORE