business
Brazil to Crack Down on 476% Annual Credit Card Rates, Again
By and
Credit card interest rates 38 times higher than in U.S.

Central bank to discuss ways to reduce cost of credit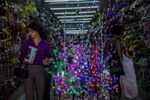 Spare a thought for Brazil's cash-strapped shopaholics this holiday season.
Triple-digit credit card interest rates are enough to ensure many consumers keep their wallets in their pockets, even at this time of year.
But now the government of President Michel Temer has signaled that it wants to tackle the staggeringly large spread between Brazil's benchmark Selic rate - currently 13.75 percent - and the average annual interest on credit cards, which is somewhere north of 450 percent. 
A combination of a comparatively concentrated banking sector, the high risk of default and the lack of timely legal mechanisms for forcing deadbeat debtors to cough up means the burden on Brazilians is hardly new. But it has taken on added urgency as the country slouches through its seventh straight quarter of recession. 
Heavily indebted consumers and businesses are holding off from making new purchases due to high borrowing costs. Persistently weak retail sales represent one of the reasons why policy makers are still struggling to revive Latin America's largest economy.
Last week, Temer unveiled a package of microeconomic measures aimed at stimulating growth. Among them, a proposal to reduce exorbitant credit card fees. The central bank is expected to discuss the issue at a Tuesday press conference. Congress's finance and taxation committee is also debating measures to limit the amount of interest charged by credit card operators in Brazil, with one deputy proposing a ceiling of 12 percent per year.
On Tuesday morning the Brazilian newspaper O Estado de Sao Paulo reported that the presidential economic team is starting to pressure public banks to lower interest rates to spark competition with the private sector. According to the article, based on anonymous sources, the government's approach will differ from a previous, failed attempt by Dilma Rousseff to force banks to cut the cost of credit, as it will not involve any directly interventionist measures. Still, history suggest it is unlikely to prove straightforward.
"For an effective reduction in rates, there needs to be a really profound change in credit cards and the way that they are organized," said Gustavo Loyola, a former central bank president, who now works as a partner at the Tendencias consulting firm. "It's not something that you can do overnight."
Brazilians tend to avoid using credit cards in the same way as consumers in the U.S., where rates are approximately 38 times lower. Installment plans and bank loans are a much more common way of purchasing big-ticket items in Brazil. Writing in the newspaper Folha de S. Paulo, Marco Bonomo, a professor at the Insper business school, argued that volatility in the prices of financial assets, the high level of default, and the difficulty in recuperating the cash from soured loans help widen the spread.
For Carlos Thadeu, head of the economic department at the National Commerce Confederation, part of the problem is a lack of competition. "They can charge what they like," he said. "The banks want to protect themselves."
The average annual interest rates for credit cards charged in Brazil reached 475.8 percent in October, according to the central bank. Meanwhile, commercial banks in the U.S. charged average annual rates of 12.5 percent on credit cards in August, according to the latest available data from the Federal Reserve Bank.
Even if the government and the central bank succeed in persuading Brazil's banks to take on more of the credit risk and alleviate some of the burden on consumers, Loyola warns that it is unlikely to provide a quick way out of the doldrums.
"The recession that Brazil is passing through is serious and has no easy answers," he said. "Patience is necessary."
(
Updates with reports on government pressure on banks in seventh paragraph.
)
Before it's here, it's on the Bloomberg Terminal.
LEARN MORE