Austrian Populists Go to Moscow to Pitch Trump-Putin Bridge
By and
Freedom Party chiefs in 'diplomatic talks' with United Russia

Party has opposed sanctions on Russia; leads in Austrian polls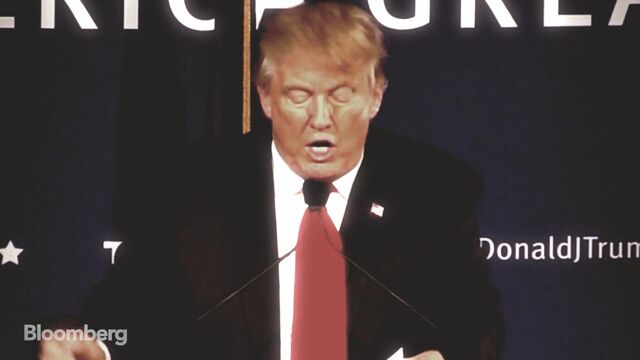 Austria's populist Freedom Party said it wants to broker an end to sanctions on Russia by using its contacts with the White House and the Kremlin to reduce east-west tensions.
Freedom Party leader Heinz-Christian Strache and Norbert Hofer, the losing candidate in this month's presidential election, signed a "working agreement" with Russian President Vladimir Putin's United Russia party in Moscow on Monday, according to a statement issued by the Austrian party. It added that Strache met last month in New York with Michael Flynn, nominated to become President-elect Donald Trump's National Security Adviser.
Strache wants to roll back "the sanctions that are harmful and ultimately useless for the economy," according to the Freedom Party statement, which described itself as "a neutral and reliable mediator and partner." The delegation met with United Russia's international secretary, Sergei Zheleznyak, according to a spokesman for the Russian party.
This is the first formal agreement with a major party from EU-member state since the bloc imposed its sanctions on Russia for annexing Crimea and supporting separatists in Eastern Ukraine.
While the Freedom Party was defeated for the Austrian presidency by an independent candidate, it tops national opinion polls with about a third of the vote.
Party officials have in the past called for an end to European Union sanctions against Russia and voiced support for Russia's annexation of Crimea. In a Facebook posting, Strache said that Russia had "freed Aleppo" from Islamic State.
"Austria needs international political and business contacts rather than negative and damaging sanctions," Strache said on Facebook. Austria was neutral during the Cold War. Austrian companies including oil and gas group OMV AG and Raiffeisen Bank International AG have close business ties to Moscow.
During this year's presidential ballot, Hofer campaigned on the promise to build a bridge between Trump and the Kremlin. The election's winner, former Green Party leader Alexander Van der Bellen, offset Hofer's appeals by arguing Austria's most important economic interests are inside the EU.

Russia's United Party said the cooperation pact is valid for five years and focuses on exchanging experience in the sphere of economics, trade and investment.
"We must help to expand the partnership between our parties and countries, including issues of international security, migration crisis, economic and humanitarian development, supporting traditional values and protecting the environment," Zheleznyak said in the statement.
Zheleznyak is on an EU list of Russian politicians who are restricted in traveling to Europe and had their assets located in the bloc frozen. The sanctions don't hinder EU politicians from meeting or talking to those listed.
— With assistance by Ilya Arkhipov
Before it's here, it's on the Bloomberg Terminal.
LEARN MORE