Australia Sees Slightly Narrower Deficit, Keeps Surplus for 2021
By
Government still maintains return to budget surplus by 2021

Rating companies take no action; S&P says still pessimistic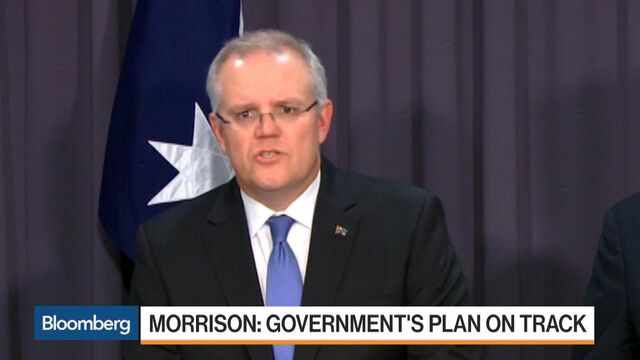 Australian Treasurer Scott Morrison has bought himself time after the nation's AAA rating escaped a downgrade Monday.
While rating agencies took no action following a half-year budget update, which forecast a slightly narrower deficit and return to surplus by 2021, they were hardly congratulatory. S&P Global Ratings said it remained pessimistic about the projections and will be watching closely in the coming months. Morrison's response: the bond market is the ultimate arbiter on Australia, with more than half of government debt held offshore, and the rating companies know it.
"International debt markets are responding well to Australia's bond position, and at the end of the day, that is ultimately the real test of the Australian government's fiscal position," he said in an interview in Canberra Monday. "I'm not surprised the agencies have responded the way they have today because to have done differently would've been, I think, out of step with what is actually happening in those markets."
Australia's struggle to balance its books has been complicated by recession-level wage rises and weaker growth as the economy adjusts to the end of a mining boom. Morrison lamented the number of moving parts made it difficult to forecast a modern budget with confidence. As a result, he said he's trying to be as transparent as possible to win over ratings companies.
Morrison pointed to overseas demand for Australian debt and its comparatively high return in a robust defense of the nation's AAA score last week. Australian 10-year bond yields have surged in tandem with Treasuries recently, up more than 90 basis points since October to 2.86 percent on Monday.

The government predicted an underlying cash deficit of A$36.5 billion ($26.6 billion) in the year through June 30, slightly lower than it forecast in May. In the ensuing three years, however, those shortfalls are expected to widen by almost A$11 billion more than May projections. Morrison also cut the fiscal 2017 growth estimate to 2 percent from an earlier 2.5 percent forecast.
On growth, the Treasurer refused to take a backward step in a post-mining boom economy: "We are diversifying, we are coming out of that and talking about 2 percent growth as a revision downward," he said. "I mean in most other economies that would be an upgrade."
S&P wasn't as upbeat in the hours following Monday's budget update.
"The government's worsening forecast fiscal position, as outlined in its latest budget projections earlier today, further pressures the rating," S&P said Monday. "Over the coming months, we will continue to monitor the government's willingness and ability to enact new budget savings or revenue measures to reduce fiscal deficits materially over the next few years."
The two other main credit assessors also delivered their verdict shortly after the update. Moody's Investors Service said meeting the revised budget targets will be difficult amid weaker economic growth. Fitch Ratings Ltd. said the revisions were still consistent with the AAA despite some deterioration.
Fiscal Gridlock
S&P put Australia on negative outlook in July in response to a knife-edge election that resulted in the government just scraping together a majority in the lower house of parliament. Its take on the outcome was that pushing through fiscal policy decisions would prove even tougher than in the previous term, when opposition parties blocked many proposals.
The major swing factors for Australia since the May budget have been weaker wages growth and a slower-than-forecast economic expansion; on the plus side, prices for key exports iron ore and coal have soared. The government on Monday forecast that net debt would peak at 19 percent in fiscal 2019, a little lower and a year later than forecast in May.
On global matters, Morrison said he doubts the U.S. and China -- Australia's top trading partner -- will descend into a trade war, despite rising tensions. "I think governments tend to be practical and I think the practicalities mean that's in nobody's interest," he said in the interview.
The Treasurer also restated his commitment to lowering the corporate tax rate, noting President-elect Trump is talking about 15 percent and if Australia fails to compete it will lose business. To date, the upper house of parliament has opposed the tax cut, with the opposition Labor party saying it's unaffordable in the current fiscal environment.
Su-Lin Ong, head of Australian economic and fixed-income strategy at Royal Bank of Canada in Sydney, said the budget update was inoffensive and gained the government time until the May budget.
"The lack of red flags in today's MYEFO coupled with only modest revisions should buy the government more time until the 2017–18 budget," she said. "It will not, however, reduce its concerns or the risk of downgrade."