An Eternal Japan Optimist Says Kuroda ETF Experiment Has Failed
By and
BOJ is buying ETFs designed to change how companies behave

Jesper Koll says funds haven't benefited consumers, providers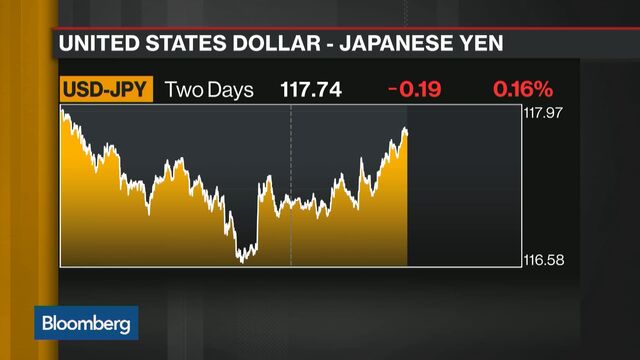 Haruhiko Kuroda's attempt to engineer change at Japan Inc. using exchange-traded funds just isn't working, says Jesper Koll, a perennial optimist on the country's economy.

The BOJ is spending 300 billion yen ($2.6 billion) a year on ETFs tracking companies that invest in their businesses and staff, seeking to get executives to do just that. But the funds themselves are falling flat by the most important yardstick, Koll says. Almost nobody else wants to buy them.
"You know these are failures," Koll, chief executive officer of WisdomTree Japan Inc., said in a phone interview in Tokyo. They "have not yielded results that are of any benefit, neither to the consumer nor the provider."
Governor Kuroda said last December that the BOJ would buy ETFs containing companies that invest in "physical and human capital," a minor part of the central bank's now 6 trillion yen in annual ETF purchases aimed at stimulating the economy. The idea is to get Japanese firms to make investments and raise wages rather than hoarding cash, which would in turn bring the country closer to its elusive inflation target.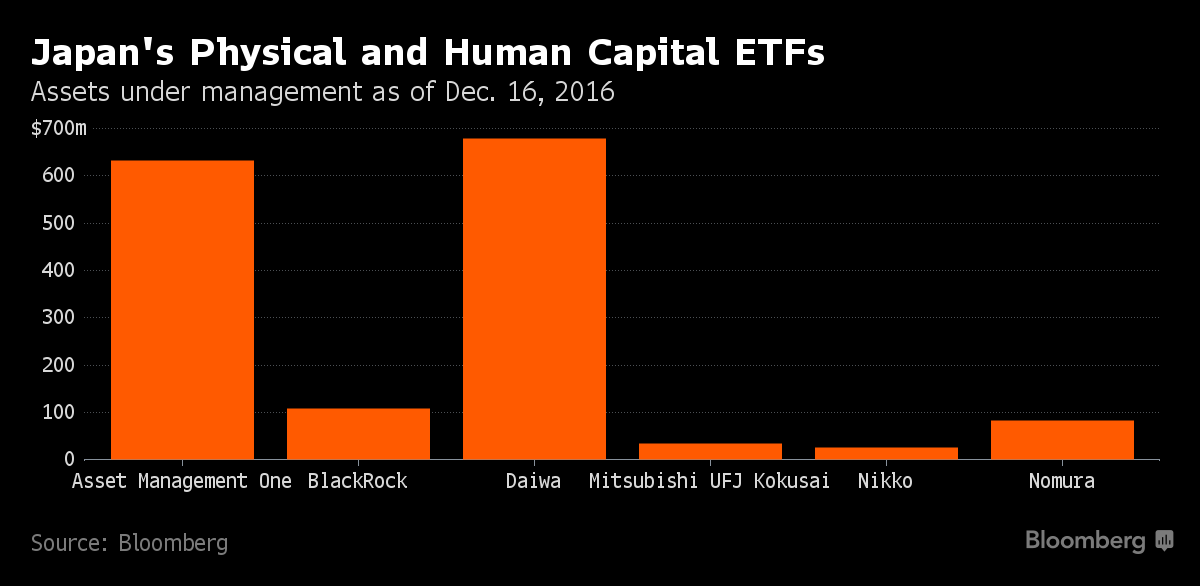 At the time, there were no such ETFs in Japan, so providers rushed to create them. A year later, six products from companies including Nomura Asset Management Co. and Daiwa Asset Management Co. have a combined $1.56 billion in assets. That's less than 1 percent of the country's $173 billion ETF market, according to data compiled by Bloomberg.
Asset managers have been struggling to communicate how higher spending might translate into higher stock prices, according to Koei Imai, head of the ETF center at Nikko Asset Management Co. While Daiwa Asset and Asset Management One Co.'s funds each have more than $600 million under management, those of Nikko Asset and Mitsubishi UFJ Kokusai Asset Management Co. have less than $35 million each.
"People in the market aren't very interested," said Makoto Shiota, head of ETF marketing at Nomura Holdings Inc. "It's easier for them to just invest in funds linked to the Nikkei 225."
It's partly because of performance. The Next Funds Nomura Enterprise Value Allocation Index and the Daiwa ETF MSCI Japan Human and Physical Investment Index have risen 9.1 percent and 11.6 percent respectively since the start of June, versus a 12.3 percent gain for the Topix index. One reason is the ETFs have a smaller allocation to financial stocks, which have been surging.
The central bank on Tuesday maintained its targets for interest rates and its asset purchase programs after meeting to assess the economy and market conditions for the first time since Donald Trump's election victory.
The ETF program is just one of a string of Japanese attempts to use market incentives to change corporate behavior. The JPX-Nikkei Index 400, a state-backed stock gauge started in January 2014, directs central bank and pension fund money to profitable companies that don't stockpile cash. A similar index for smaller shares begins in March. A list of "pink flower" stocks promotes firms that encourage women's advancement, another pillar of Abenomics.
Shame Gauge
The JPX-Nikkei 400, which is also bought by the $1.1 trillion Government Pension Investment Fund, has had greater success in attracting investments. About $4.4 billion is tracking the so-called shame gauge in ETFs and publicly offered investment trusts, according to Japan Exchange Group Inc.
Part of the issue with the capital-spending ETFs is that the BOJ can only buy half the market value of each fund, Nomura's Shiota said. That means the ETFs can't increase in size unless other investors buy them, too. The BOJ also has the option of purchasing JPX-Nikkei 400 ETFs under this program.
But ultimately, products that are planned to change companies' behavior don't always work as investments, according to S&P Dow Jones Indices Japan unit head Yoshiyuki Makino and several ETF providers.
"It's very understandable that the BOJ wants capital expenditures to go up, which will revitalize the economy and trickle down to employees through higher wages," Makino said. "That story works. But how that fits with stock trading is a different story."
Before it's here, it's on the Bloomberg Terminal.
LEARN MORE