Venezuela Extends Use of 100-Bolivar Bill to Halt Looting, Riots
by
Sabotage blocks arrival of new bills, President Maduro claims

Violent protests, looting erupt in at least six cities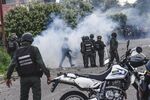 Venezuela President Nicolas Maduro extended the use of the nation's 100 bolivar bill until Jan. 2 after the government's decision to pull its largest denomination note out of circulation left the country short of cash, sparking violent protests and looting.
Maduro's decision to extend use of the most-widely-used bill came as the president said replacement higher-denomination notes were unavailable because three planes transporting them to the country were "victims of  international sabotage." He did not give details of the alleged sabotage.
Since last Sunday's shock announcement that almost all 100-bolivar notes were being called in by the government to combat the hoarding of currency so worthless that it needs to be weighed to be spent, the past week's daily scenes of frustrated people crowding banks and automated teller machines to deposit the bills culminated Friday in utter exasperation following Maduro's announcement late Thursday that the new money would be late.
Riots Erupt
Violence erupted on Friday and Saturday in at least six cities, including Maracaibo, where police put down looting near a bank building, and the south-eastern state of Bolivar, where mobs looted several businesses.
In Bolivar, people rioted in its capital, Ciudad Bolívar, and the mining towns of El Callao, Tumeremo, Santa Elena and Guasipati. A 15-year-old died in El Callao and at least 115 local businesses were looted, reported Correo del Caroní. Governor Rangel Gomez said 135 people had been arrested and the National Guard would be deployed. A curfew was ordered in Ciudad Bolivar.
Triple-digit inflation has rendered 100-bolivar bill worthless, and the central bank has ordered the printing of new notes from companies abroad. The government promised the new bills would be in circulation by Thursday, but it failed to deliver.
Maduro said at a rally in Caracas on Saturday: "We are victims of an international sabotage so the bills, which are ready, cannot be shipped to Venezuela.''
He also extended until Jan. 2 the closure of the border with Brazil and Colombia, where he says the bills get smuggled.
Before it's here, it's on the Bloomberg Terminal.
LEARN MORE