Trump Aide Plays Down Questions of One-China Policy Revision
By
Priebus says Trump being 'respectful' to outgoing president

President-elect suggested China-Taiwan may be bargaining chip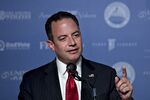 A top adviser to Donald Trump played down remarks by the president-elect last week that appeared to signal the U.S.'s long-standing approach to dealing with China and Taiwan would be up for negotiation under the new administration.
"We're not suggesting that we're revisiting 'One-China' policy right now and he's not president right now and he's respectful to the current president," incoming White House chief of staff Reince Priebus said on "Fox News Sunday."
Trump said on the show on Nov. 11 that "I fully understand the One-China policy, but I don't know why we have to be bound by a One-China policy unless we make a deal with China having to do with other things, including trade."
The One-China policy is an acknowledgment that Taiwan and China are part of the same China, even if they disagree on what that means. China regards it as a bedrock policy, not the bargaining chip that Trump suggested. President Barack Obama on Friday cautioned his successor against lightly abandoning Washington's stance on the delicate topic.
"For China, the issue of Taiwan is as important as anything on their docket. The idea of One-China is at the heart of their conception as a nation," Obama said at his final year-end news conference at the White House. "If you're going to upend this understanding, you have to have thought through what the consequences are."
Before it's here, it's on the Bloomberg Terminal.
LEARN MORE