markets
Poland's Ruling Party Takes Step Back in Row Over Media Freedom
By
Law & Justice suspends plan to curb media access in new year

President Duda starts mediating effort amid ongoing protests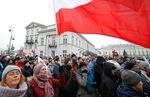 Poland's ruling Law & Justice party promised to rework plans for media coverage in parliament, taking a step back in the biggest political stand-off since it won 2015 elections.
After a meeting with media representatives late on Saturday, Senate Speaker Stanislaw Karczewski said "the current regulations will continue, and we'll talk about new guidelines from Monday," effectively suspending plans to curb journalists' access to parliament on Jan 1. The proposals, which weren't consulted with leading broadcasters and newspapers, have led to tumultuous scenes inside and outside parliament since Friday.

"We should admit that we didn't communicate the changes to journalists and to society in a proper way," Pawel Szefernaker, a deputy minister in Prime Minister Beata Szydlo's Chancellery, said in Radio Zet Sunday. "The meeting yesterday and the next one planned for Monday shows that we're taking steps in this direction."
Since winning power, Law & Justice has been accused by the European Commission of eroding the rule of law, raising concern that triggered Poland's first ever credit downgrade by S&P Global Ratings. Lawmakers passed new curbs on public gatherings this week and planned to overhaul non-governmental organizations and limit reporting in parliament, fueling criticism that it's backsliding on democratic standards 27 years after the collapse of communism.
For the first time since Law & Justice took power, police used force early on Saturday to remove demonstrators blocking exit routes from parliament. Hours earlier, opposition lawmakers delayed proceedings by refusing to yield the podium. Anti-government protests continued on Saturday and more are planned for Sunday.
Mediation Plan
President Andrzej Duda, a former member of the ruling party, urged both sides to help restore calm and started to meet with opposition officials on Sunday in a mediation effort. Rafal Trzaskowski, a lawmaker from the opposition Civic Platform party, said it's not clear if Duda's efforts are sincere as he has "never strayed from the Law & Justice line."
Opposition lawmakers surrounded the podium on Friday, forcing lower house Speaker Marek Kuchcinski to abandon deliberations over the 2017 budget. A few hours later, he reconvened the budget debate in an auxiliary chamber in parliament, where votes were counted by hand instead of the usual electronic system. With hardly any opposition lawmakers taking part. He said the fiscal plan was passed with 234 votes for and 2 against, and that it will next go to the upper house. Three opposition parties condemned the vote as "illegal."
The new media regulations, which Kuchcinski had wanted to impose in January, would mean that only television recordings made by parliament will be available to journalists, and most reporters would be forced to work from a media center instead of roaming the building in search of comments from lawmakers as they do now.
While Kuchcinski has said the changes, the biggest curbs on reporting since the end of communism in 1989, would "guarantee more professional and comfortable working conditions," private broadcasters and newspapers said the move amounted to censorship.
Before it's here, it's on the Bloomberg Terminal.
LEARN MORE