business
New Zealand PM Shakes Up Cabinet After Key's Shock Resignation
By
English confirms appointment of Joyce as new finance minister

Deputy leader Bennett takes on five roles including tourism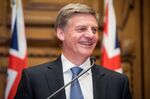 New Zealand's new Prime Minister Bill English has overhauled the government's ministerial team in the wake of John Key's shock resignation.
English confirmed that Steven Joyce would be promoted to finance minister and Deputy Prime Minister Paula Bennett would add three portfolios to her existing two, when announcing his first Cabinet in Wellington Sunday. The ruling National Party overwhelmingly endorsed English as new leader on Dec. 12.
"This new Ministry is focused on providing prosperity, opportunity and security
for all Kiwis, including the most vulnerable in our communities," English said.
Joyce, who was previously Economic and Development Minister, will also be minister for infrastructure. Bennett remains responsible for state services and climate change issues and will also pick up the police, women and tourism portfolios.
With economic growth of 3.6 percent in the year through June, New Zealand is among the fastest-growing nations in the developed world, leaving National well placed to fight next year's election on its promise of tax cuts.
However, the South Pacific nation of 4.7 million people is also in the grip of a housing boom that's seen prices in largest city Auckland almost double over the past nine years, locking many first-home buyers out of the market and forcing others to take on huge amounts of debt.
English, 54, was previously Key's deputy and finance minister.
Before it's here, it's on the Bloomberg Terminal.
LEARN MORE